Moveable feast?
The BF3 test did raise one major annoyance, though. While AMD and Nvidia have improved mobile driver roll-outs in recent years, Dell remains notoriously slow. Both drivers are customised to support hot key and power management functions, and suspend/resume behaviour, so you're tied into Dell's updates. A critical element of PC gaming, it doesn't augur well that, at time of writing, after six weeks and eight weeks respectively, AMD and Nvidia's latest drivers were unavailable on Alienware's flagship laptop.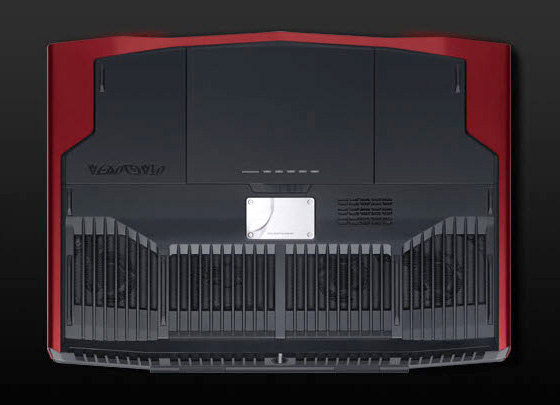 Packing heat
Then there's the issue of the battery. The M18x lasted 1 hour 17 minutes on a looping PCMark Vantage test with everything on, and 1 hour 58 minutes when switched to integrated graphics – which, incidentally, requires a reboot every time on both AMD and Nvidia configurations.
Those durations are understandable, of course. Combined, the CPU, dual GPUs and fans pull around 250W from the 96W/hr 12-Cell Li-ion battery, so you'll only get around 20 minutes of gaming. But even that's not an option here as Dell instead automatically underclocks the GPUs with battery use.
Frame rates drop off a cliff, and games need scaling back to low settings to achieve anywhere near the comfortable 30FPS mark – hardly worth it for the extra 20 or so minutes underclocking provides. It might seem harsh to complain. But it's an important point when you can pick up a more powerful desktop for around £500 less. At 5.4Kgs, the M18x's already slim advantage of mobility is further eroded by the constant need to plug it in.
Verdict
The M18x lives up to expectations. It feels lovingly crafted around gamers' needs, combining superlative design, build quality, aesthetics and scalable power. But it comes at a cost. The review model's price compares reasonably well to other gaming laptops, but component upgrades incur a luxury brand tax, with the top spec costing close to £5k. The real issue, however, is one of positioning. The extra size, weight and power consumption required by the dual graphics cards pushes it into competition with much cheaper desktops. For all it's gaming power, that's one contest the M18x can't win. ®
More Notebooks Reviews...

HP
Envy 17 3D
Toshiba
Satellite P775
Samsung
RF711
Lenovo
Thinkpad Edge
E420s
Apple
MacBook Pro
17in 2011

Dell Alienware M18x 18.4in gaming notebook
A gaming colossus whose muscles bulge exponentially with cash injections.
COMMENTS
That's one ugly looking PC
I wonder why manufacturers of gaming rigs go all out to put silly sharp angles, neon underlighting and other gaudy crap into their designs.
More money than sense
I worked with a guy who had one of these monsters years ago.
It was drool-worthy, cost 4 grand, looked amazing.
Yet it whined like a hoover (you never mentioned the noise level) and within 3 years its GPU was so out of date, and RAM maxed out, and nothing upgradable, that the thing was more useful as a doorstop than a laptop.
You can get a top-level desktop that crushes this thing, and a fine laptop, and an ipad, combined, for half the cost of the top model of this thing. I just can't see the point.
100% F-ugly
Congratulations Dell on building the ugliest most expensive laptop ever!
You'd have to tripping your t*ts off to even consider buying this POS.
ACK
I'm sorry, but as a former XPS user, I have to say that thing is FUGLY.
What is the deal with the down rez in screens these days? My ancient M1710 had 1920x1200 and this thing only has 1920x1080!? What's the deal with that?
I'm glad that Dell kicked the audio up a notice with the Klipsch speakers, but judging from the underside pics, they also dropped the really nice subwoofer on the bottom that the XPS had. That's a real shame.
Dedicated gamers?
Surely the hardcore guys use desktops?
The hardware is:
- cheaper, unit by unit
- more configurable (you can choose *all* the components you want)
- more cost effective (overclocking ranges tend to be wider; you might be able to do with a lower spec, but overclocked unit)
- more reliable (cooling is far more efficient)
- more modular; if one unit does fail, it can be replaced and doesn't involve a total replacement of the entire unit
- more updateable; adding a new CPU or GPUs doesn't involve a total replacement of the entire unit
One of these just seems...a bit poser-ish