Crysis point
Actual gaming corroborated the benchmark results. Crysis ran maxed out at 1920 x 1080 on Very High with 8xAA and VSYNC at 39FPS. Crysis 2's vanilla build (DX10) ran at 1920 x 1080 on its Hardcore setting at 48FPS. An even sterner test was provided by patching Crysis 2's recent DX11 and high-res texture packs, in which the M18x still performed admirably, at 36FPS on Ultra settings.
Benchmark Tests
PCMark Vantage Results

Longer bars are better
Battery Life Results

Battery life in Minutes
Longer bars are better
Two of 2011's major titles confirmed its DX11 credentials, suggesting the configuration will remain competitive for the next couple of years. Deus Ex: Human Revolution ran at 48FPS on average with all DX11 features on. And Battlefield 3's alpha trial, although not presently supporting CrossfireX (or indeed SLI, for that matter), still ran at a rock-solid 54FPS on high settings in single-card mode.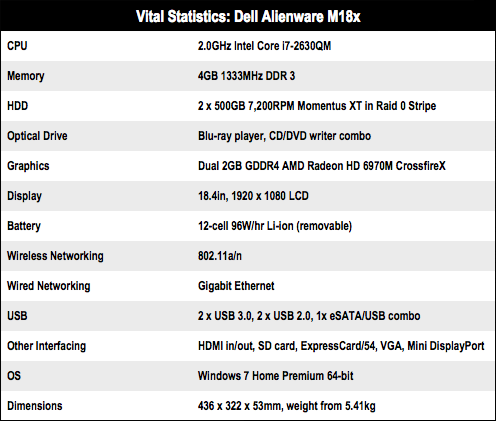 COMMENTS
That's one ugly looking PC
I wonder why manufacturers of gaming rigs go all out to put silly sharp angles, neon underlighting and other gaudy crap into their designs.
More money than sense
I worked with a guy who had one of these monsters years ago.
It was drool-worthy, cost 4 grand, looked amazing.
Yet it whined like a hoover (you never mentioned the noise level) and within 3 years its GPU was so out of date, and RAM maxed out, and nothing upgradable, that the thing was more useful as a doorstop than a laptop.
You can get a top-level desktop that crushes this thing, and a fine laptop, and an ipad, combined, for half the cost of the top model of this thing. I just can't see the point.
100% F-ugly
Congratulations Dell on building the ugliest most expensive laptop ever!
You'd have to tripping your t*ts off to even consider buying this POS.
ACK
I'm sorry, but as a former XPS user, I have to say that thing is FUGLY.
What is the deal with the down rez in screens these days? My ancient M1710 had 1920x1200 and this thing only has 1920x1080!? What's the deal with that?
I'm glad that Dell kicked the audio up a notice with the Klipsch speakers, but judging from the underside pics, they also dropped the really nice subwoofer on the bottom that the XPS had. That's a real shame.
Dedicated gamers?
Surely the hardcore guys use desktops?
The hardware is:
- cheaper, unit by unit
- more configurable (you can choose *all* the components you want)
- more cost effective (overclocking ranges tend to be wider; you might be able to do with a lower spec, but overclocked unit)
- more reliable (cooling is far more efficient)
- more modular; if one unit does fail, it can be replaced and doesn't involve a total replacement of the entire unit
- more updateable; adding a new CPU or GPUs doesn't involve a total replacement of the entire unit
One of these just seems...a bit poser-ish