HTC outs 'Mango' WinPho 7 smartphones
'Unibody' aluminium handsets, anyone?
Updated HTC has unwrapped its 'Mango' Windows Phone 7 handsets, now dubbed Titan and Radar.
Mango, the next major release, 7.5, of the Microsoft mobile OS, wasn't mentioned of course, but it's expected to debut any moment now and, barring accidents, should be out by the time Titan and Radar go on sale, in October.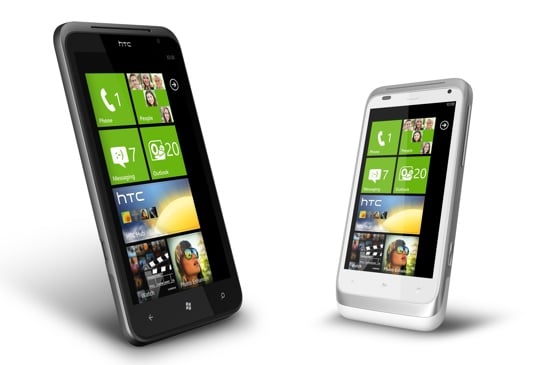 HTC's webpage for Radar has no specs and doesn't reference Mango directly, but it does mention one of the update's key features: Internet Explorer 9.
Titan has a 4.7in display and an 8Mp camera, both mounted in a brushed aluminium casing. So are the Radar's 3.8in touchscreen and 5Mp cam.
Update
MS has presented some of the specs. The displays are the customary 480 x 800, and while the Radar has a 1GHz CPU, the Titan's is 1.5GHz, both MSM8255s from Qualcomm. ®
Hat-tip to reader Gregg Stuart for the pointer to the specs
COMMENTS
I'm sorry
Which Windows Phone 7 device did you use?
I'm no Windows Phone 'fan-girl' (even though at the moment its my phone of choice, that may change in a couple of years but at the moment it's not looking that way) but there's something seriously wrong with whatever device that gave you such a bad experience.
Bad battery life: Not in my experience, I regularly get 2 days of usage out of one charge (still not good enough) on reasonable usage (internet, lots of phone calls, text messages, apps, Facebook etc.) and 3 days if it's not used much at all (as was the case when travelling this year in Italy) - HTC Mozart in this case. For a smartphone this is adequate, though I long for the day a Smartphone holds a charge like my Nokia 1800 PAYG - 2 weeks!
Copy and paste: Never had a problem with it myself and where it's meant to work, it's worked.
Themes: Fair enough Android and even iOS probably give you more options but I personally prefer Windows Phone's minimalist aesthetic, not for everyone mind, that's up to the user to decide what they like most.
No proper multitasking: Yes that has been the case up to the Windows Phone 7.5 release, but never been a problem except for Stopwatch apps which annoyingly paused when the phone went into lock! But Mango supports multitasking to the best of my knowledge, I don't know if it's full blown pre-emptive multitasking though but if it works and battery life is not hammered that's good enough for me, but maybe not for some geeks.
Hugely bloated and sluggish: Absolute shit mate and you're talking complete bollocks there. Sorry but you really haven't got the first clue on that statement. Windows Mobile 6 and before were awful as you suggest and I wouldn't foist them on my own worst enemy. However, Windows Phone 7, slick, fast and very very fluid. Better than an iPhone or Android, definitely on a par, better -- I haven't tried enough devices to definitively say that. But it's definitely extremely good, on a par and better than a couple of the Android devices I tried when purchasing in February 2011.
Nobody is buying it: Comparatively no it hasn't set the world on fire. Yet. Maybe it never will, but to discount it as an option, silly.
As to what everyone else is doing? Oh yes let's all do what everyone else does because I can't make my own mind up.
It might turn out that for this user Android is indeed the best option and as I say in 2 years time I may decide that Android is now the better device for me. But for now I think WP7 is a very good phone platform and worth considering.
But seriously you make your decisions on what everyone else does. I actually feel a bit sorry for you.
An Anecdote for you ...
My Colleague recommended an HTC Android phone to another friend. Weeks later said friend was complaining that his phone was useless, difficult to use and not what he was looking for. It turned out he had been duped (by the helpful sales-folk) into buying a WinPho7 HTC instead of an android one.
I am on my second Android phone and certainly would not recommend a Win phone to anyone with half a brain.
RE: Filippo
I have had Windows Phone 7 since the beginning after owning an iPhone 4. I can say that i do not miss any features.
In my opinion its the best OS i have ever used. I did try Android a while back and hated it, it seems more driven around people tweaking the setup to suit them. If Android was a desktop OS then i would agree with the tweaking, but when its a phone the last thing anyone should have to worry about is memory management!.
My HTC HD7 feels just as tight as the day i got it and have never experienced any sort of slow down or crashing like I got from the other two OSes. If you are going for a new Windows Phone i would hold out till the Nokia handsets come out, its what I am doing.
Yep
I've had a WP7 since launch - and I've said all along that the platform has promise, but tht I wouldn't recommend it, as it was missing far too many features. As a developer, I've had access to 7.5 Mango for a few weeks now, and I can safely say that the only bits that are missing are apps which take advantage of the new APIs in Mango.
Out of the box, the (7.5) phone has a significantly bigger feature set than any other phone out there, but (and this is a big but) once you take apps into consideration, there's still a few bits that are missing - for now. I've not found a decent satnav solution, but I know Navigon are bringing something to the table including offline maps, and now Nokia is embedded into the ecosystem, their Ovi maps might an appearance. I'm also keen to see some SSH clients - in fact, anything which takes advantage of the new sockets API.
Windows Phone has got almost everything right - it's simple, secure and robust, and if they improve their 'visibility' - via advertising, and courting phone sellers, things should look up. I work in an industry which makes use of mobile platforms, and Windows Phone hasn't even appeared on the radar yet, which is disappointing.
If you can wait, I'd see what Nokia have to offer when they bring out their first batch of Windows Phones. Otherwise, you're best considering these two phones.
Yup
I have the Omnia 7 - overall not a bad phone but it does feel very much like a first go, which considering Windows has a fairly long (if rubbish) history with "smart" phones isn't really a good thing.
I find it to be buggy with the way it handles contacts, creating multiple entries for the same contact for no apparent reason and denying the ability to delete one of those entries without loosing the whole lot - and heaven forbid that you try to remove a contact who has details pulled in from either windows live or facebook!
Other issues I have include the lack of a timer function on the clock meaning you have to set alarms for a specific time rather than letting a countdown run. Also lack of official tethering, and in my case lack of unofficial tethering as well as I can't get the bloody thing to appear as a modem once I have followed the "hack".
The browser is fairly buggy as well, refusing to show many pages due to crap java support and lack of flash/html5 and not handling events like pop up windows properly. I have not yet been able to find an alternative browser for it.
Looking in my friends pockets, I am the only person to have a winpho who doesn't work for MS and of those that work for MS (and therefore get them free) all of them have either an android or an iPhone in their pocket as well.
All that said, it isn't a bad phone but it has a lot of issues in my opinion. Hopefully mango will fix these issues but if any of the mentioned issues are deal breakers for you, skip it for now.