Renault Scenic Bose Edition 1.6 130dCi
A boombox on wheels?
Renault's refined diesel
Compared with the cheaper 110bhp 1.5 litre turbo-diesel, the new unit offers improved fuel consumption, up from 57.6 to 64.2mpg and reduced CO2 emissions, down from 124 to 115g/km across the combined test cycle. It's also a darned sight faster. The 0-62 dash is covered in 10.3 seconds rather then 13.4. Top speed, for those interested, is 121mph - not bad for a family bus with the drag coefficient of a garden shed.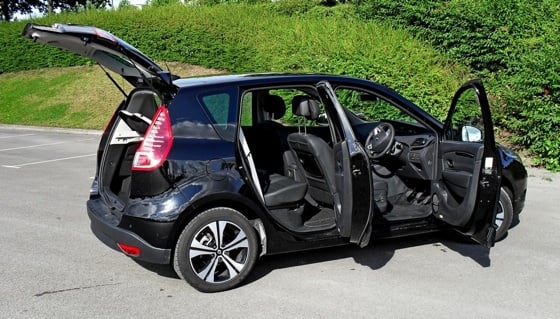 MPV-ishness not impeded by style
The new diesel is also a very refined engine even when cold, and though the start/stop system lacks anything in the way of regenerative braking to keep the battery charged under heavy use, I didn't notice the system absent itself any more often than I did in the Volkswagen Scirocco BlueMotion - reviewed here.
The combination of that slightly peaky turbo diesel, a six-speed manual box and 17in alloys gives the Scenic Bose an altogether more sporty feel than you would expect from an MPV.
I've no problem with that, the Scenic proving more fun to drive than I recall from earlier models, but I wonder if it's a set up that will find favour with the garden variety MPV buyer who is presumably more worried about projectile vomit from a travel-sick nipper in the back than turn-in grip at the front.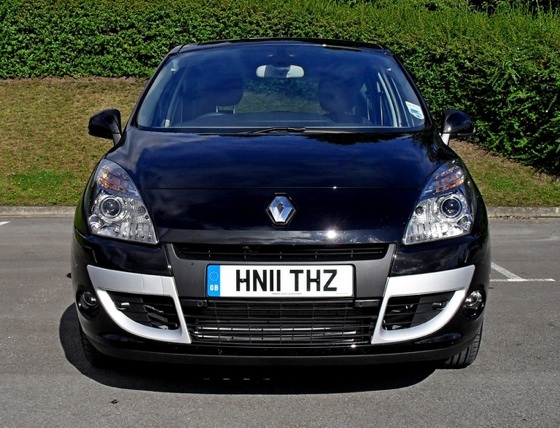 Silver grill surrounds a Renault family trait
Beyond the new diesel engine and epic stereo, everything else is par for the Scenic course - or Grand Scenic, the Bose Edition pack can be had on either. So you get comfortable seating for five, enough cubbyholes to lose a Japanese infantry division in, an enormous sun roof and possibly the most over-styled headlight surrounds in Christendom.
Verdict
If you just want to haul the kids about then the basic 1.6 litre dCi 130 turbo-diesel Scenic is the way to go. For only £1300 more than the inferior 1.5 litre dCi 110 model, it's pretty good value.
But if you like your tunes loud and your looks sharp, the Bose pack easily justifies it's £1500 premium. The sound quality is truly superb and though I'm not entirely sure that the Bose-branded badges and kick plates aren't taking things just a bit too far, it's a pretty slick looking ride for an MPV. ®
More Car Reviews

Renault Scenic
Bose Edition
VW Scirocco
BlueMotion Tech
TDI 140
Lexus
CT200h
hybrid
Volvo S60
DRIVe
Peugeot
508 Active
e-HDI

Renault Scenic Bose Edition 1.6 130dCi
An MPV for music lovers that's also a spacious and enjoyable place to spend time behind the wheel.
Price:
From £20,250 OTR. £23,875 as tested RRP