Plantronics Gamecom 777

Plantronics Gamecom 777 is geared up with virtual 7.1 surround sound and has a nice boxy look that manages not to escape the dated appearance of the Creative headset.
The Gamecom 777 has a long and strong cable made from a distinctive plastic fibre with an elegant module for volume control and mic switch. The D111 sound card connects with a PC via USB with no hassle.
The one outstanding feature of these headphone is the slim mic with noise cancellation that slides beautifully under the frame and it almost completely unnoticeable. Nice work. The audio clarity is significant, even at full volume and I was really impressed with the noise cancellation, though not so much with the noise isolation.
Gamecom 777 is a nice piece of kit, but is priced too high if you're going to compare it with the Razer Carcharias.  Slightly too heavy for my liking with inept noise isolation affects the overall rating of this decent sounding headset.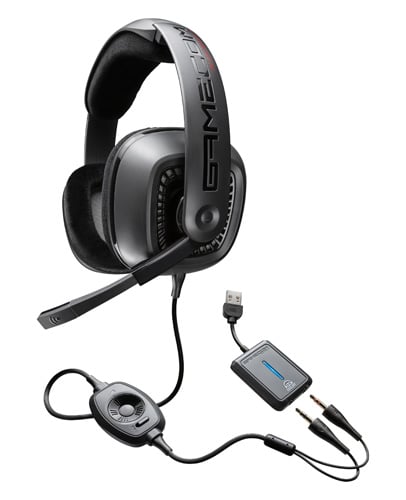 Razer Meglodon

My first reaction: I am in love. The Razer Meglodon is just plain awesome. From the hardshell carrycase to the velvet pads this headset is all about luxury. But hang on the Meglodon really does live up to it's name, as even on the smallest size adjustment this headset is way too big and does not sit snugly on my head. Gutted.
Undaunted and clasping the Meglodon around my ears I try it for sound quality. There is deep booming bass, the crisp clear trebles. The 7.1 virtualisation is so convincing that it gave me a fright at first. I could really feel where I was being attacked from with the 7.1 surround audio enabled.
The shiny and solid control box sits happily in its place just below my screen. The rubber feet means it doesn't slide around. The braided material cabling is a notable build quality details as it never snarls or tugs. This is an expensive headset with a smooth and tight audio response but it's hard to go crazy over a headset that just doesn't fit.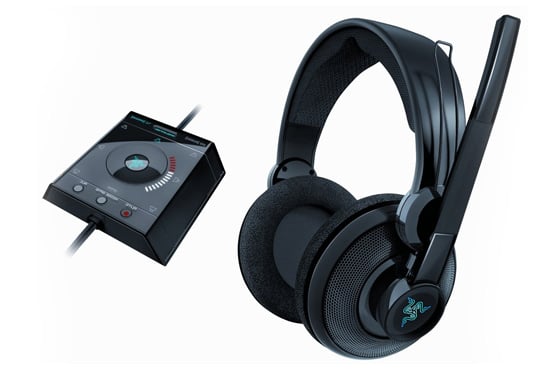 Reg Rating 80%
Price £125
More info Razer
COMMENTS
Yes especially...
Yes, especially the Sennheiser ones they covered. They don't compare with Sennheiser at all.
So both of you joined today and have 1 post
Said in the voice of Zoidberg: "So both the Astro headset peeps joined the Reg forums today and each have one post. Probably the same person and probably PR for Astro."
[No one reacts.] "I don't hear any gasping."
Everyone else: "We all figured that out already."
Why yes, they ARE amazing
And so comfortable and reasonably priced too. I also recommend a cool, iced Coca Cola(TM) during your gaming session, best enjoyed with McVities(TM) Hobnobs(TM).
Available from all good retailers now! Terms and conditions may apply.
They are adequate
But bloody expensive for what they offer. You can pick up a Sennheiser PC360 headset for less than an A40, and whilst it doesn't look so shiny its a lot nicer. The PC350 is even cheaper, but I prefer the open-backed earcups of the 360.
If the Astros were about £80 cheaper, they'd be well worth it. But at £160? No thanks.
G930
I have a set and I'd say they are not that great. Wireless works, and unlike the creative ones (HS1200) they don't constantly bleep at you when the battery is low (Creative does this even thou' there might be 1hr+ battery life left).
The surround works, however, the driver software supplied is terrible. When I install that, my MIC goes to pot, where I speak there is an audible buzzing noise others can hear. In Mumble for no apparently reason will only output in either surround or the right ear, not stereo.
The supplied software is the biggest drawback, giving you options to change your voice and looking pretty seems to be more important than any real functionality. Logitech haven't updated the software, their forums are full of people complaining about issues with the headset. Buyers beware, is all I can say.