Sony e-book reader line to get multi-touch screen
PRS-T1 specs leak
Sony's next e-book reader has slipped out, courtesy of a Dutch retailer.
Bol.com subsequently pulled the page, but not before a MobileRead correspondent cut and pasted it into the forum.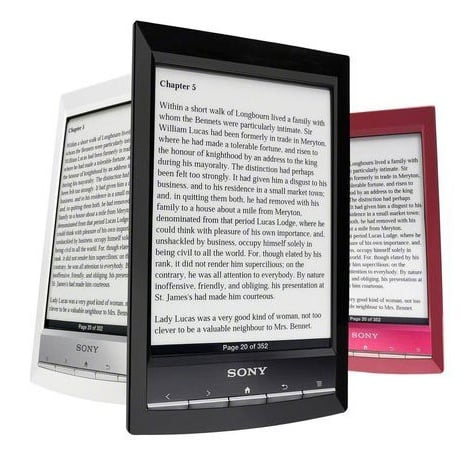 The Reader PRS-T1 sports a multitouch 6in, 600 x 800 E Ink Pearl display capable of presenting 16 shades of grey. It works with fingers and with a stylus, but it's not clear whether the latter will come bundled with the reader.
Behind the screen sits 2GB of Flash storage, expandable using Micro SD cards, and there's Wi-Fi connectivity on board too.
It weighs 168g.
In July, Sony confirmed its Reader family would be updated in the summer/early autumn timeframe.
Sony, of course, has said any of this in an official capacity, so we've no availability info. The PRS-T1 is said to be set to retail in the Eurozone for €165 (£146). ®
COMMENTS
Why touchscreen?
When I'm reading a book, there's only two actions I need (apart from power on/off): next page and previous page. For the <1% time I'm not using my Kindle to read a book (usually meaning I'm selecting a new book to read, or re-syncing to Amazon), the buttons work perfectly well, ta very much.
So, what's the point in having a touchscreen? Even if it was better for non-reading use, that takes up such a microcosm of my time compared to actual reading, it's just not worthwhile. And until the screens go colour, it's not going to be worth using for web browsing or anything similar.
An eReader is an eReader, folks. Let's not turn books into media centres, please?
pretty much
most readers have a 6" screen, which is about right for a mass-market paperback, and books usually by default reflect the layout of the paper editions quite closely. I don't think they usually do it _exactly_, though - page numbers may differ, though I haven't checked. Readers are also customizable, so you can change the font size, which obviously impacts the page count. Great for the vision-impaired, though - no need to try and track down a large print edition...
Still not convinced
Having used both interfaces, I can aand you will ssure you that it is an issue. Read a 300 page novel will find yourself irritated by continually having to swipe. Not only that but try swiping while holding on to something like you would if you travelled by tube
Hierarchical navigation is a weak point
At least, it is on the PRS-300 and from what I've read, the Kindle's habit of indexing everything makes managing something with several thousand items on problematical to say the least.
Books/Analog/1992/1992-10 is a much neater way to access stuff than Books by Author/TUV/pages 7 through 19... when there is no immediate feedback from the screen that a button has been pressed, it needs a minimum keypress navigation.
Books by collection helps, if you remembered to make a collection when you filled the device, but it's not a real solution if you've got fifty books by the same author as a single collection (and how else would you do it?).
Watch out
It looks mainly flat, and I can see a hint of rounded corners. What's more it has a screen! I foresee injunctions ahead