Sky makes iPad trolley for square-eyed shoppers
Supermarkets set for CHAOS
No, despite Sky's effulgent press release, you are not going to be able to watch Sky while you wheel a trolley round Sainsbury's - thank the beardy bloke up there - for some time, if ever.
Sky today pitched the notion - a supermarket trolley with a bolted on iPad 2 running the satellite broadcaster's Sky Go app - as a means by which Brtain's ever more widely waisted shoppers can vicariously keep up with the athletic activities of others while stuffing their trollies with their favourite E-number enhanced pre-fab grub.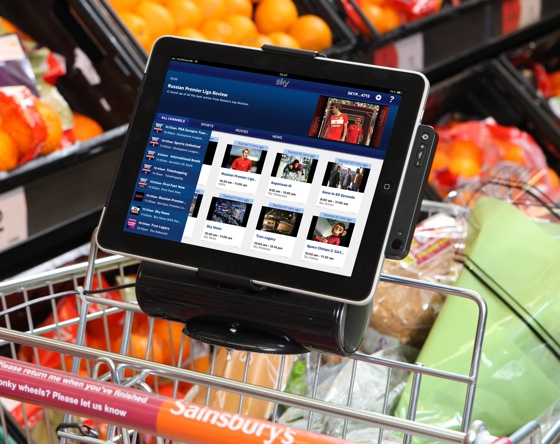 Don't expect to see this on a shopping trolley near you
(It'll be nicked in an instant, for starters...)
There's apparently a solar panel on there too, you average supermarket striplights pumping out enough energy to keep the tablet and its Wi-Fi connection juiced up, it's implied.
Closer examination of the pics shows a almost-but-not-quite craftily hidden cable carry power up from the wheels.
We have to say, navigating around major supermarkets is hard enough, given all the folk bimbling around trying to decide what brand of baked bean to buy, without given the the fools a screen to distract them from the task at hand.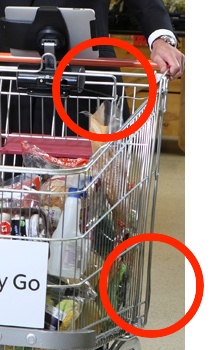 Wire, aye
Fortunately, there are only a very small number of prototypes, though that wasn't made clear by Sky's puff for Sky Go masquerading as a technology development [surely, "Sky's important retail technology breakthrough - Ed].
Even Sainsbury's spokesman was decidedly non-committal: "We're looking at these new trolleys," was pretty much all the grocer's trolley buyer, Brett Hart, said. ®
Sponsored: Minds Mastering Machines - Call for papers now open