Ten... budget Android tablets
Fondleslabs for thin wallets
Binatone HomeSurf 705

Prior to the arrival of Kogan's Agora the HomeSurf 705 was pretty much par for the course for what you could expect for a hundred knicker but with a resistive panel, a 667MHz chip, 256MB of RAM and Android 2.1, the spec is already behind the times despite the 705 being brand new.
One point in the Binatone's favour is that resistive screens are getting better, so while you won't be pinching-to-zoom you won't be pulling your hair out in frustration either. But like the equally resistive Arnova 10, the screen's viewing angles are a little restrictive and the UI is a bit stodgy.
The HomeSurf 705 is the cheapest tablet in this round up and, at this price point, it's easier to list what you don't get than what you do. So you have to do without the Market, Google's apps, Flash, reliable 720p HD video playback or an HDMI port.
One a more positive note, there's 2GB of flash storage for your files, a Micro SD card slot and a pretty decent battery life. Binatone claims four hours of video playback and it is not far off but for only £20 more the Kogan tablet is a better bet.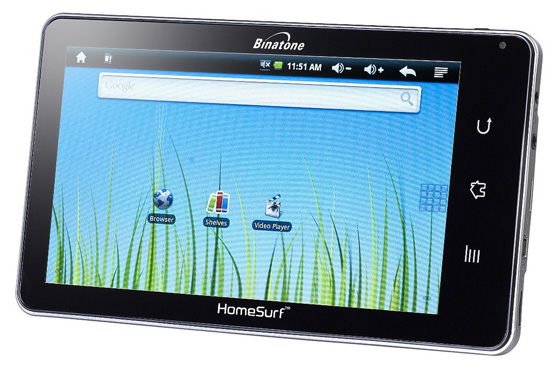 Reg Rating 50%
Price £99
More info Binatone
Elonex eTouch 702

There's nothing much wrong with the 702's specification with an 800MHz Cortex 8 CPU, 512MB of RAM, a capacitive 400 x 800 7in screen, 4GB of storage and Android 2.3 with the full Google and Android Market experience.
The 4:3 screen arrangement is not exactly common for a budget Android slab – most are configured 16:9 – but there's no doubt this shape is better suited to web browsing and ebook reading, albeit at the expense of wide screen video.
Though Flash is technically supported the 702 struggled to play content smoothly either in the browser or through the iPlayer app. No problems to report with locally hosted video though – 1080p MKV, QuickTime and H.264 files all played perfectly.
The UI isn't quite as fluid as on the Agora or BeBook and the status bar shows a 3G signal icon, despite there being no cellular modem, which is a rough edge I could do without. Battery performance was pretty good when running, yet on stand-by the 3,000mAh cell seemed to be sucked dry in no time at all, frequently dropping from 40 per cent to flat overnight.

Reg Rating 60%
Price £180
More info Elonex
Sponsored: Minds Mastering Machines - Call for papers now open