Samsung SH100 14Mp Wi-Fi compact camera
Call the shots from your smartphone
Network resources
For starters when hooked up to a Wi-Fi network you can upload pictures and videos to your favourite social network or virtual gallery – Facebook Picasa, YouTube, Photobucket – as easily and swiftly as from your laptop. Once you select a picture in Playback mode you only need to press the Share button on the left of the image, select your preferred destination site, which the camera will automatically remember for next time.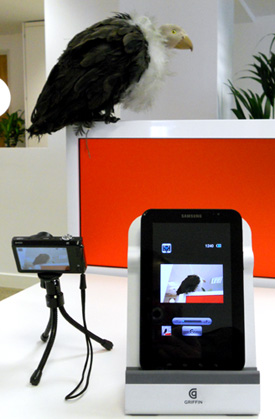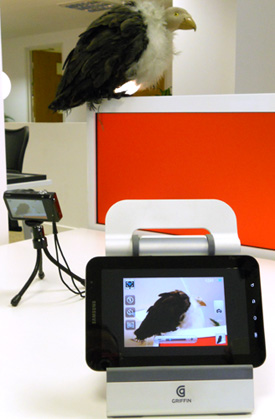 Hooked up to the SH100, RemoteViewfinder on a Galaxy Tab makes easy work of awkward angles and flighty subjects
A small but functional Qwerty keyboard appears on-screen for logging in which can also be used to add comments to your images. For multiple uploads or to browse your existing albums on Facebook you can use the camera's Web application. In addition, the SH100 allows e-mailing files directly from the camera using your existing email account. Uploaded images are resized to a 2Mp maximum and video is limited to 30MB.
It also supports send/receive images and videos with another Wi-Fi enabled camera; wireless picture uploads to your home computer once you have installed the supplied AllShare software and stream videos and slideshows to any DLNA enabled TV. The range is pretty good too – in keeping with expectations for a Wi-Fi network.
If you also happen to own a Samsung Galaxy S/S2 smartphone or Tab, you'll be able to benefit from this camera's most innovative feature. Once you download the free RemoteViewfinder app you can use the phone as a remote viewfinder and shutter release for seamless self and group portraits or hard to reach framing angles.
In tests with a both a Samsung Galaxy S and the original Tab, you simply run the RemoteViewfinder app and choose the same function on the SH100 and choose the SH100_Galaxy... access point. Once enabled, connecting to the handset is fast and remote operation includes zoom and flash control. Moreover, tethering to a phone also offers the advantage of providing the camera with Internet access when a wireless hotspot is not available.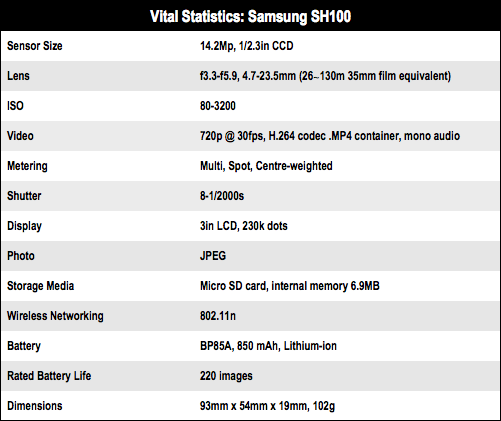 Sponsored: Fast data protection ROI?