Acer to announce ultrabook at IFA
Skinny laptop inbound
Acer has let slip that it will announce a super-skinny notebook of the type chip giant Intel is calling an "ultrabook" at the IFA consumer electronics show.
Emailed invites to the IFA press conference don't mention the U-word, but the text of the message itself does.
As you can see from the snap below, Acer promises the gadget will offer "minimum" design, weight, thickness and "delay", but "maximum" style, portability, cool and "possibilities".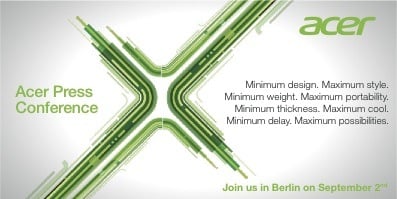 That would seem to suggest a MacBook Air clone, complete with SSD and Sandy Bridge Intel chippery but not optical drive.
We'll bring you more details next week from IFA. ®
COMMENTS
What the heck is...
..."minimal design"?
Acer designer:
"We thought a bit about putting an innovative keyboard on it and a multi-touch trackpad, but thought 'fuck it' and did the same as the previous model as per the 'minimal design' brief"
If they had written minimalist design, I'd give the PR department a bit more respect. But not much more.
I hate PR. And adverts. And marketing. And all that other crap peddled by fuckers who know knob all about the products concerned, but loads about spending a great deal of time and money talking about nothing.
Bastards.
Minimal design
A design is the creating the plans for the construction of an object.So minimal design is surely doing the bare minimum to create something?
Sounds like most laptops then.
Now if they had said minimalist design that would be a whole different thing.
So....
....once you get past the verbal marketing diahorrea, it's a laptop then?
Wordplay
Minmal or minimalist, if the acer model looks anything like asus' UX netbook then good things may happen on the design front.
Having said that. I'd love to see some performance and cost figures for this proposition.
Source: http://www.corpasia.net/taiwan/2357/events/47/EN/IR_2011Q2.pdf page 17
"That would seem to suggest a MacBook Air clone"...
...so I assume that Apple will sue roughly 37 seconds after the announcement?