Boffins cobble up phone-powering footwear
Walk to stop your gadgets running down
Research published by the University of Wisconsin describes a way of generating sufficient electrical energy from human movement to power mobile gadgets.
Tapping into the kinetic energy inherent in, say, walking up the street and converting it into electrical energy is nothing new, but the Wisconsin team, led by Tom Krupenkin and J Ashley Taylor, have come up with a system that delivers a sufficiently high energy density to be useful.
Previous systems could generate micro- or milliWatts of power. Krupenkin and Taylor say theirs can produce Watts.
Their system - which the two will attempt to commercialise through their company, InStep NanoPower - sandwiches microscopic droplets of a conductive fluid between a positive electrode layer and a thin-film dielectric. A constant bias voltage is applied between the droplet and the electrode.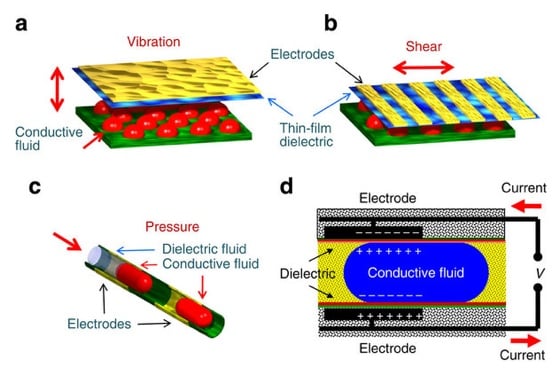 Droplet actuation mechanisms include (a) droplets between oscillating plates, (b) droplets between sliding plates, and (c) droplets in a microchannel. (d) Shows in greater detail schematics of reverse-electrowetting-based energy generation process in a microchannel geometry.
Alternatively, a tube can be made from alternating sections of electrode and dielectric, with the droplets placed within.
As the system is shaken, the liquid moves, changing its shape between the sheets or down the tube. The upshot is a decrease in the amount of charge it can hold, resulting in a flow or electrical charge back through the external circuit, creating a current that can power an external load.
It's a reversal of an existing process - electrowetting - in which a liquid is made to move by applying a current.

Possible generators
The team enivsage a shoe containing a tubular generator - pat pending - in the sole. As you walk, compression of a chamber at the heel forces the droplets through many of the tiny tubes, generating power.
Not that it comes free of charge. The killer is the necessary bias voltage used to drive the system.
"The average power per foot can exceed 2W for bias voltages in excess of 35V and 10W for bias voltages in excess of 75V. The bias voltage can be substantially reduced by increasing the capacitance of the dielectric film stack."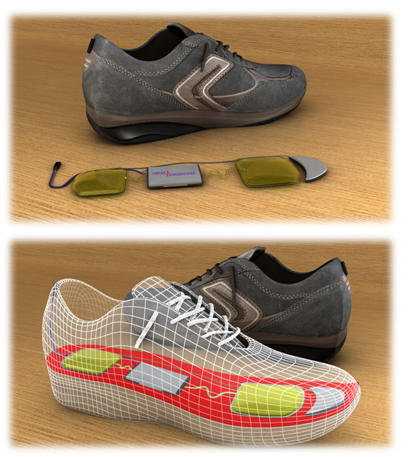 Hi-tech trainer
Getting the bias voltage to the reduced level is possible, they say, with a DC-DC converter lifting the 3.7V output of a standard lithium battery.
Getting the power out of the shoe and into your phone or laptop is another challenge, of course.
You can read the full paper, published by Nature Communications and titled Reverse electrowetting as a new approach to high-power energy harvesting, online. ®
COMMENTS
Re: This was done over 10 years ago.
yes, but did he ever get it to work? By the sounds of it, Bayliss was using the piezoelectric effect. I doubt you'll get 1W+ of power out of that.
Get Smart
Older readers may remember that the secret agent Maxwell Smart used his shoe as a phone. The synergy is obvious.
Fun at Airports
Lithium batterys can burn or explode if damaged by cutting, puncture or impact. Not sure I want that under my feet...
Never mind the the issues where you go through any metal detector, and thats not just airports these days.
Mmmm. Prickly.
Does anybody want to volunteer to see what an unexpected 75V DC shock to the soles of the feet feels like? That could put a sudden spring in your step.
May I try and be the first to say
about frikkin time.
Please 'roll-out' to all high traffic carpet areas ASAP