Neato Robotics XV-15 vacuum cleaner
Another sucker joins the robot wars
Review Robot vacuum cleaners are becoming increasingly popular, with a few companies joining Roomba in the market over the last couple of years. Neato is the latest to offer a product in the UK, with the XV-15 which boasts laser mapping, and a powerful vacuum – some of the other models are careful to describe themselves as cleaners rather than vacuums, but Neato's not so reticent.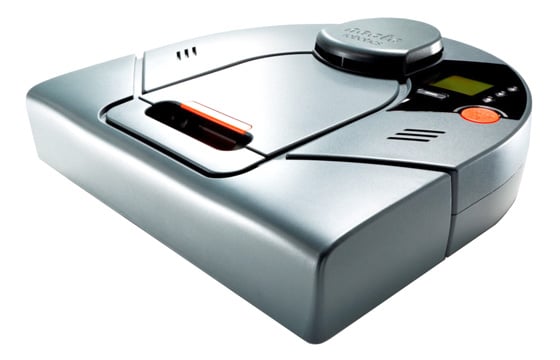 Neato Robotics XV-15 vacuum cleaner
While the other models tend to be more or less circular, the XV-15 is squared off at one end – the front – and there's a small raised section at the back, which houses the laser-based guidance system. Just to the right of that, there's a small LCD display, with four buttons next to it, and a large start button. The buttons allow you to select cleaning mode, and schedule automatic cleaning.
A notable absence is side brushes; where the Samsung Navibot has two of these beetle-like appendages to flick dust bunnies into its maw, and the Roomba has one, Neato doesn't have any. The package also lacks a remote control – arguably a bit of a gimmick – but does come with a charging base, which seems reasonably well designed, as it's not crucial for the robot to be lined up dead straight for it to work.
Unlike the other robots that I've looked at in the past, where a 'beacon' or 'lighthouse' has to be placed in a doorway to create an invisible barrier, Neato takes a different approach. The package contains a 14-foot reel of magnetic strip, which has the same sort of profile as the join between two bits of flooring; cut this into pieces, and lay it on the floor, and the XV-15 will refuse to cross the line. There's enough included to be considerably more flexible than a pair of beacons, and no need to remember to keep the batteries working in them.
In normal use, all you have to do is press the start button on the top, and the Neato will roam your home, room by room, starting at the edges and then methodically cleaning. If it runs out of power, it'll return to base and charge, as long as that's where it started. Carry it somewhere else, like upstairs, and it'll roam around, avoiding stairs, until it's either finished or the battery is flat. There's also a scheduled mode, which is easily set from the menus.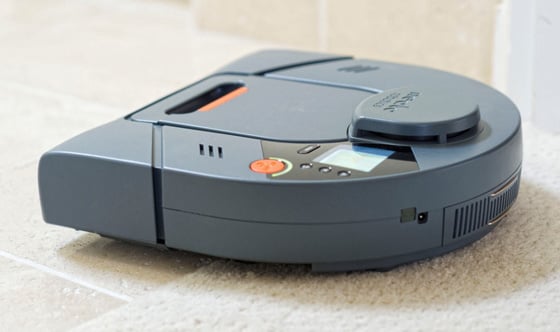 Firmware upgrades are performed using its micro USB port
As with the competition, there's a spot cleaning mode, where the robot will work over just a small area; the idea is that you pick it up, put it in more or less the right place, select Spot mode and it'll clean just that section. It seems a pretty small section, frankly, and in a few cases, it was necessary to run the Spot program more than once. Since testing, it seems that Neato have taken this on-board. Only last week a firmware upgrade appeared that extends the area to 4' x 6'. If you want larger than that, the alternative is to mark out the area with the barrier strips, and just run the main program, which is probably more hassle than most people will want.
COMMENTS
This review...
sucks... but in a good way.
As for robotic appliances, well I just cannot trust any untethered device to "go it alone" no matter how well it supposedly works.
Plus, pushing a good old upright vacuum cleaner around makes for a good workout, I mean I can't get the missus to go to gym or ride her beloved mountain bike, so the Dyson certainly has a dual role...
Good in theory...
...but in practice, these robotic vacuum cleaners don't really work that well. I have a Roomba and in my experience;
1) Perhaps it's because I'm particularly slovenly or because of my two cats but you have to empty it a lot. I dunno, but having to keep a watchful eye on the little machine to make sure it hasn't filled up seems a little beside the point to me.
2) It's good for a quick sweep around but doesn't have a particularly powerful vacuum so you need to vacuum properly now and then.
3) Because of 2), and the fact that the Roomba can't do stairs, you need another vacuum cleaner. I have one of those little Dysons, initially for doing the bits the Roomba couldn't but recently I just do the lot.
4) Occasionally cat hair gets in the little cogs and you have to do a full disassembly, clean, oil and rebuild job. iRobot make it quite easy but still, I've never had to disassemble any other hoovers I've owned.
5) My Roomba lacks the LCD screen that the Neato product has, which alas means you have to look up a lot of the little warning beeps and boops it makes when things go wrong.
6) Alluded to in this article, the Roomba sometimes fails to navigate properly back to the charging point or doesn't quite sit on it right when it gets there, meaning it dies and looks a little pathetic.
7) You have to keep your place relatively tidy, as alas it lacks a human's "hoovering around crap" skills and can easily get stuck on random objects.
Because of all this I've basically stopped using the Roomba and just use my little Dyson.
I really hope the technology moves on and one day there is a robotic cleaning machine that just gets on with it. Unfortunately we're not there yet.
I forsee the cat proudly bringing this to me - dead.
After all, when you have sufficient cats they'll gang up on anything..
Neato experiences
Unlike any other posters, I actually do own the XV-15.
In my flat Neato works rather well, wife runs it about daily - That's the big advantage of a cleaning bot, you can let it do it's stuff while you're getting groceries or whatever and it doesn't mind doing it every day. Cleaning result is adequate meaning it does pick off a lot of gunk. Corners are not handled and you still have to clean up manually occasionally. Much less often than otherwise, tho. Emptying the dust bin is hardly a big deal considering it's designed to be easily detached.
I got two cats and pretty easy apartment with no rugs. Most setup needed was to place some plastic strip under certain furniture Neato would get stuck on / waste lot of time navigating - There's a problem with furniture that has just enough gap under it that the laser doesn't see it but the top of the robot will get caught..
Otherwise the navigation works quite well, neato will steer around obstacles like your feet when you're sitting on the couch. With latest firmware it seems the thing gets confused less often, previously it'd sometimes eg. give up trying to find a way out from under baby crib too easily.
So lets get this straight...
1. It needs to charge itself, but it will only go 'back to base' if it can, if it's upstairs, it won't - so I need to take it back down to charge.
2. It doesn't empty itself and has very little capacity - so I have to empty it 5x more than a conventional vacuum
3. It doesn't do corners, so, I have to use a conventional vacuum to do those ... erm ... back to that in a minute
4. It gets blocked up easily, so I have to unclog it often.
This all sounds like a massive FAIL to me.
Point 3 is the kicker. If still have to vacuum the corners and edges of a room - arguably the most tedious part of vacuuming, exactly how taxing is it going to be to just vacuum the rest of the room manually? It's a 2 minute job to do that part.
Does it handle mats, will it lift the covers on the couches and vacuum under them? - nope.
In short, a useless gimmick. The amount of time spent 'looking after' it and having to manually vacuum the bits it can't do, makes the job of vacuuming a house even more tedious!
We were promised Jet Packs dammit, and robots - and all we get are poxy second-rate vacuum cleaners that suck.