AMD gooses low-power Fusion chips
Faster clocks, better graphics, improved battery life
AMD has beefed up its low-end lines of its Fusion CPU/GPU-combo processors, parts that the company insists on calling "accelerated processing units", or APUs.
"With these new APUs, we're bringing premium features to entry-level products that let users get a richer computing experience," AMD client-division general manager Chris Cloran said in a prepared statement announcing the upgrades.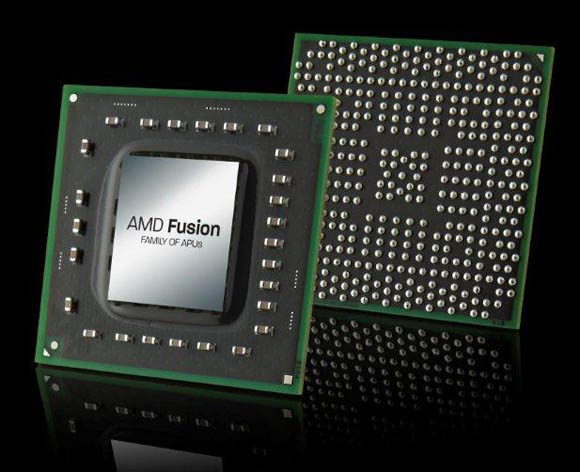 The entry-level products to which Cloran was referring are AMD's E-Series and C-Series APUs, formerly known during their development as "Zacate" and "Ontario", respectively.
The new APUs are all at the low-wattage end of AMD's APU offerings. At an 18W TDP for the E-Series and a mere 9W for the C-Series, they're designed for netbooks (remember them?), ultrathin and "value" notebooks, and desktop units with usage models that don't require APUs from AMD's more muscular A-Series, which didn't receive an upgrade on Monday.
The two additions to the E-Series include the new top-of-the-line E-450, slotting in above the previous top gun E-350, which remains in the line. The E-450's dual CPU cores run at 1.65GHz compared to the E-350's 1.6GHz, and its Radeon HD 6320 GPU cores have a base clock of 508MHz and max out at 600MHz, while the E-350's HD 6310 ran at a single clock rate of 492MHz.
The E-300 doubles the CPU core count of the earier E-240's single core, but drops the clock speed from 1.5GHz to 1.3GHz. Like the E-240 – which also remains in the line – the E-300 has a Radeon HD 6310, and like the CPU core clock, it's dialed down a wee bit, from 500MHz to 488Mhz.
On paper, at least, the new C-60 is a clear upgrade from the earlier C-50, which has a CPU clock of 1GHz and a Radeon HD 6250 that runs at 276MHz. The new C-60 maintains both those base clocks, but can boost its CPU cores as high as 1.33GHz and its HD 6290 400MHz. Both the C-60 and the C-50, which remains available, have dual CPU cores.
In addition, the E-450 has snappier DDR3 1333 memory, both E-Series parts have HDMI 1.4a support for 3D images and video – on 3D-capable displays and TVs, of course – and all three include support for the MPEG-4 Part 2 Video Decoder, along with DisplayPort ++, which makes it easier for EOMs to simplify video ports by routing multiple signal types through the DisplayPort connector.
Finally, AMD claims improved battery life – up to 12 hours on the C-60 and over 10.5 hours on the E-450. View those figures with some caution, however, since they're measured on AMD platforms running the Windows Idle test. Still, battery life is improved from earlier E-Series and C-Series APUs, AMD says. ®
COMMENTS
Battery life
I added a lower-spec 64GB SSD into my cheap-o Lenovo x120e with its E-350. On the extended battery I get an easy 7 hours of browsing with WiFi, and it has no problems running a couple office apps along with a couple browser tabs and some music and IM apps in the background simultaneously, extremely usable. On a recent 3.5 hour flight, my son was able to watch 2 full-length movies back-to-back (a godsend, tbh) and there was still enough juice left for me to check email when we were killing time at baggage claim.
They aren't overwhelmingly powerful, nor are they "good" gaming rigs, but for basic productivity/media playback needs, this new tech from AMD is actually entirely usable and very energy efficient.
«CPU/GPU-combo processors,
parts that the company insists on calling "accelerated processing units", or APUs.» Insists and insists, Rik - surely even you can see that «APU» is a much more concise and economical term for these units than «CPU/GPU-combo processors» ? Extends battery life, donchaknow ?...
Henri
And Intel??
Intel has been around since 1968.. Great CPU units, but they still can't get a graphics core together? What's going on there Intel?? Didn't steal enough tech from Fairchild????
AMD E series - what the atom should have been
Finally you can buy a cheap second or third machine that runs cool and has a big screen. The AMD E is not quick by modern standards, but unlike the Atom, it is not a complete dog. And unlike Atom it comes with no mafia-imposed form factor restrictions.
I'll ammend..
Intel has been around since 1968.. Great CPU units, but they still can't get do decent graphics.
See could of stopped there.