Social awareness
The browser is certainly speedy, both by 3G and broadband over Wi-Fi, throwing up pages in double quick time. But it didn't always display them as well as it might – when you pinch to zoom on a page, it won't automatically run text around the screen, so you can end up doing a lot of sideways scrolling. With no Flash support some site elements won't work, but that's not a disaster, as Apple has proved with its avowedly non-Flash iPhone.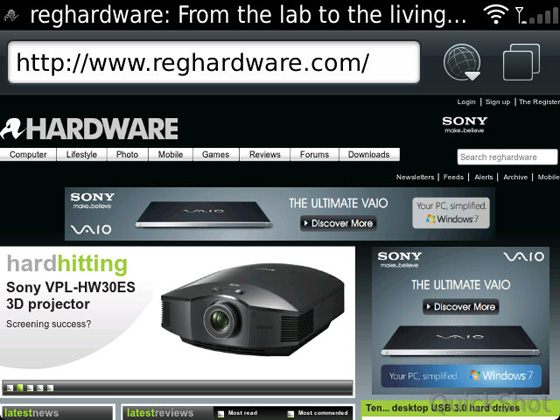 Browser
You can watch films on the dinky 2.8in screen, but sharp as it is, it's never going to look as good as a full-face display. Still, there are three options to stretch the film to fit the screen's dimensions which helps. A bit. The music player includes a rather heavy-handed 12-setting equalizer and while the supplied headphones aren't bad, they have trouble handling the lower end.
There's 8GB of storage on board to accommodate media habits and it comes with a 2GB microSD memory card which can be boosted to 32GB. The 1230mAh battery proved to be OK but not outstanding, delivering a little over a day of fairly heavy use. There didn't seem to be any problem with call quality, and voices rang out clearly from the loudspeaker.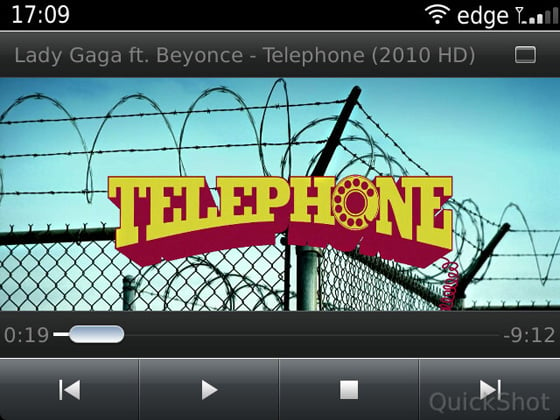 Movie viewer
Among the phone's other features, BlackBerry Messenger 6 is RIM's latest version of the instant messaging service beloved by teen rioters across the country and now offers the chance to chat while you're in some apps, including various games.
For other types of chat, the Social Feeds app pulls together your social networking updates into a single stream. Documents To Go is on board, allowing you to create and edit Word, Excel or PowerPoint documents. Pretty much everything on the Bold 9900 works well, but RIM's Achilles heel is its App World store. It's fine in principal but lags well behind the other big players in terms of the numbers and diversity of apps available.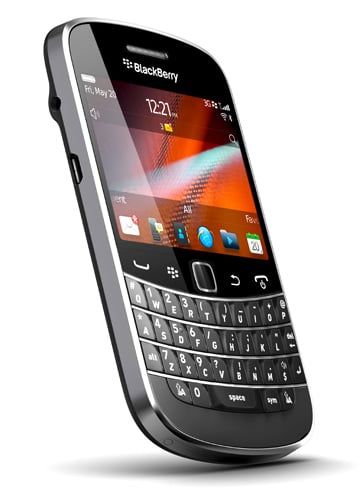 More of the same, but faster?
Verdict
The Bold 9900 is a very fast, very capable BlackBerry, but it's essentially still the same device that RIM has been selling for years, with a few improvements to keep it up to date. If you like BlackBerry handsets, you'll love it, but it's unlikely to win over many new fans. ®
More Qwerty Smartphone Reviews

HTC
ChaCha
Nokia
E6
HTC
7 Pro
Nokia
E7
HTC
Desire Z

RIM BlackBerry Bold 9900
A 2.8in touchscreen and hard Qwerty keypad combo, with the latest BlackBerry 7 OS and BB Messenger 6, plus a 5Mp camera.
COMMENTS
how much?
Over 500 quid for an averagely specified qwerty phone? I think I'll be sticking with my Nokia E72 for some time yet has much the same features, if not as slick but much cheaper. The Bold's seem to be endlessly tweaked with minor upgrades - when you can get a Curve on PAYG for about £140 I'm struggling to see who'll actually be buying this.
Keep that E72
If I were you, I would keep an eye on software updates and ovi app store since E72 guys get some cool stuff for free nowadays. Nokia licensed Joikuspot (pro) globally for example.
It is running an advanced version of J2ME with "close to hardware" extensions, it can't beat your E72 running everything from C to J2ME to Web widgets. Unless you are sick of Nokia brand as I do, keep your E72.
Userbase issue
RIM users love to use a powerful hardware like a feature phone. That was the same issue with Symbian and sad thing is, there is no limit what you can do with Symbian development. For example you can even code a smart IR remote (Psiloc) or location based "setting robot".
There are Nokia users who doesn't even know they have a full feature maps app in their phone, for free.
So userbase like that is the issue itself. I can't even convince BB users to update their firmware, the built in apps!
HTC Cha Cha?!
Seriously? 'Cha Cha'? I'm not sure I could buy a phone with that name no matter how good it is; it'd make you sound like a secondary Looney Toons character whenever you talked about it!
"Hey, what phone is that?"
"A Cha Cha!"
"Very funny. Come on, what phone is it?"
title
I think you're bang on the money with BB's appworld being its achilles heel.
Apps are now touted a central point to expanding the use of your phone. Sure you may not want them, but if you do, there are thousands of free and paid for apps - on the droid or iphone markets.
Blackberry treats its appworld like a freakshow attraction. You can have a look if you want, but you'll be just fine if you ignore it.
That was all fine and dandy when RIM was seen as an business tool. But they are not seen that way anymore, and people are not content with just a secure reliable phone. They want the razzle dazzle of turning their phone into a torch, or install a new browser, or IM client or whatever takes the fancy.