White Space: The Next Big Thing in networks
Among the mystery pub antennas of the Silicon Fens
Enough to go around
White space tech developer Neul estimates that an average of 120MHz is available across the country, dropping to almost nothing in some areas but twice that in others depending on the density of television transmitters and local geography.
The bands also offer the kind of building penetration needed to, for example, stream video from a firefighter's helmet to the fire engine outside. Such a network could be popped up in seconds and provide instant connectivity, and without having a national frequency reserved there's no need for a Big Bang approach: each fire brigade is free to innovate and see how it goes.
That piecemeal approach is one of the key advantages of white space. By allowing anyone to get involved, there's real opportunity for smaller companies to create – and sell – solutions that would otherwise require a national contract.
William Webb, late of Ofcom and now Neul's CTO, sees white space as a chaotic environment similar to an Ethernet network, as compared to the cellular operators' Token-Ring-like order. Token Ring was a more dependable networking system, but Ethernet's capacity and simplicity more than made up for its unpredictability.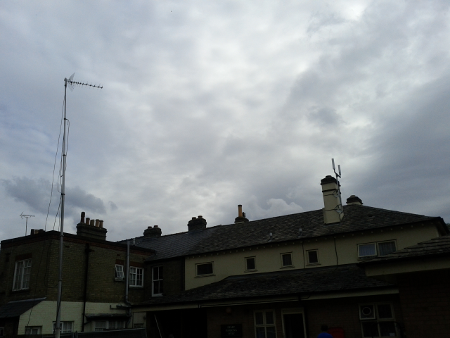 A Neul antenna atop a Cambridge pub, the mast on the left is Arqiva keeping a careful eye
Neul has erected eight nodes across Cambridge, all atop pubs, providing city-wide connectivity for machines that want to communicate over the company's Weightless protocol – which is designed to operate in such a chaotic environment. Weightless is a low-speed, low-power protocol designed for devices with a battery life of more than a decade. Neul will be launching a SIG to standardise Weightless at the end of September, and we'll be taking a closer look at the draft protocol later this week, but it has huge potential in remote data-gathering and fits nicely into the government's smart grid aspirations.
White space is ideally suited to such applications, certainly more so than the cellular networks which were designed and built for voice communications. We were told of one trial of connected meters, in the Heathrow area of London, which saw connectivity disappear as the snow came down and the voice circuits squeezed out data communications entirely – something which can't happen in white space.
There are still questions about potential interference, and who is going to run the master database tasked with preventing it. White space use is easy to demonstrate when no one else is doing it, but it will be harder when everyone and their brother is filling the white spaces with electromagnetic noise.
But from what we've seen, white space is going to be a revolutionary technology, both in the applications it enables immediately and the model it creates for the rest of the electromagnetic spectrum. ®
Sponsored: Learn how to transform your data into a strategic asset for your business by using the cloud to accelerate innovation with NetApp