Range Rover Evoque Si4
Land Rover techs up the SUV
Hill hugger
Give the gear paddles behind the steering wheel a flick and (nominal) control of the gears is handed over, although you'll still get a down-shift if revs drop too low.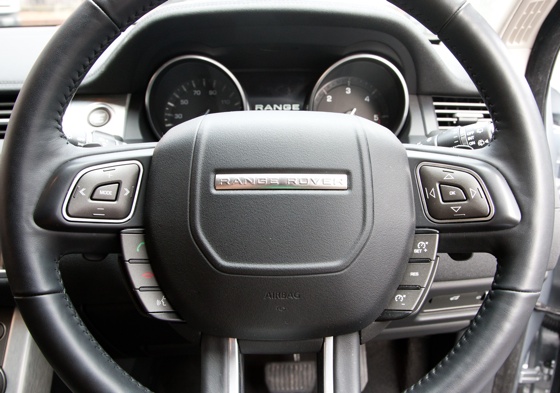 The wheel thing
Given a decent road, the Evoque doesn't handle like an SUV: turn-in is sharp and precise, and while any car this big will suffer from a degree of body-roll, there isn't a feeling of wallowing as you attack corners. With the 20in wheels placed at the four corners of the car it's easy to be precise.
Still, while using the paddles to change gear is initially fun, controlling things manually ultimately results in rather abrupt gear changes, and the Evoque's refinement becomes its own enemy. You can't hear the engine pitch clearly enough to know when to shift up. Driving using the automatic gearbox is a far smoother, if less engaging, experience.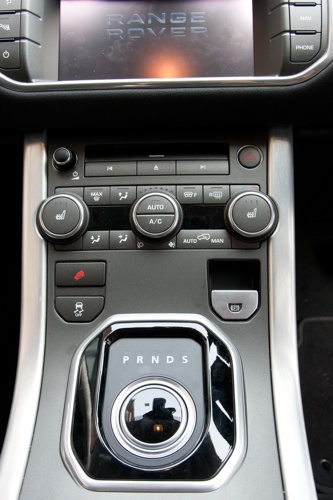 Dial up your auto gearbox setting
Leave the tarmac and the Evoque handles just as well. Purists will lament the omission of a low-range gearbox, but a few hours off the beaten track hinted at a very capable performer nonetheless. The Evoque decides how much braking and power to deliver to each wheel individually, and it picked its way confidently over slippery mud and rocks.
Its ground clearance of 21.5cm at the front axle is actually slightly higher than the Freelander's, and there are plenty of technological tricks at hand as well: hill descent control allows you to pre-set a desired speed before releasing the brake, allowing you to make descents without risking the accelerator.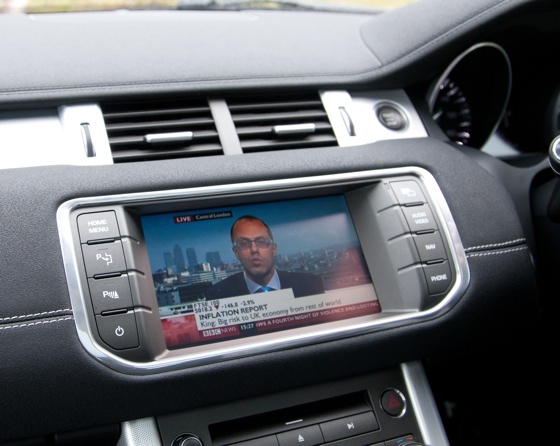 Different viewing angles, different views: sat nav for the driver, telly for the passenger
Splash out and you can turn the cabin - already a good-looking, well-appointed space - into a veritable Aladdin's cave. The Lux pack, available on Prestige and Dynamic versions of the car - it's not available on bog-standard Pure versions - will set you back £4325, but adds various treats such as the stunning 8in touchscreen nestled in the centre console. Not only does this show the navigation system, but can also make use of the hybrid TV tuner, which only occasionally struggled to maintain a signal despite being in the wilds of north Wales.
Sponsored: Minds Mastering Machines - Call for papers now open