Acer Aspire 5755G 15in Core i7 laptop
Solid option?
Benchmark results
Other than that the keyboard's pretty usable; the keys have fairly deep, lose travel, which can make typing a slightly loud, clicky affair, but it's clearly built on a solid base and lends itself well to flurries of fast touch-typing. The mousepad is similarly good: a vertical stripe on the right hand side provides scrolling duties (you can also scroll by swiping down or up with two fingers) and the single strip of plastic disguising the two buttons looks tidy.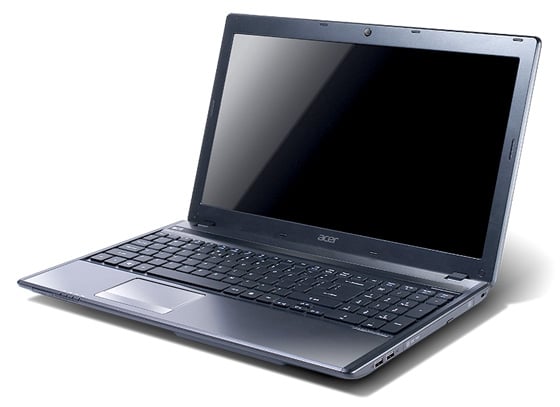 Well connected, but no Blu-ray disc play on-board
There's a good range of ports for those looking for a machine to perform day to day computing. For instance, the 5755G is the latest in a string of laptops to offer both HDMI and VGA ports, which is handy. You also get three USB ports; one on the left and two on the right. Of the two starboard ports, one is a USB 3.0 socket, while the front edge is home to an SD card slot.
Beneath the keyboard is a capable set of hardware. The Sandy Bridge processor pushing everything along is a Core i7-2630QM, which motors at 2GHz, backed up by the fullest complement of RAM you're likely to see on a consumer laptop at 8GB. The quad-core processor, plus hyperthreading, gives Windows an apparent eight cores to throw tasks at, and tripping it up is difficult, underlined by a PCMark Vantage score of 7370.
Benchmark Tests
PCMark Vantage Results

Longer bars are better
Battery Life Results

Battery life in Minutes
Longer bars are better
Graphics duties are provided by the on-processor Intel HD Graphics 3000, with extra punch available for games thanks to Nvidia's GeForce GT 540M. 3DMark Vantage returned a decent score of 3966, although framerates in the mid-teens suggest this is a laptop best saved primarily for work, with low-resolution gaming more of an afterthought.