BBC explains 'All your Twitter pics are belong to us' gaffe
Property is theft, man. So we're taking yours
Everyone's a creator
New technologies have lowered the barrier to creating and distributing creative material in many ways, and turned many more people into "creators". Technology is catching up with the ancient principle behind copyright: that everyone is potentially a creator. These rights are designed to protect and empower individuals, they're automatic, and they're internationally recognised. But we have to know our rights to assert them.
I have already mentioned how giant media companies grab material they find on the internet to lower their costs. So do smaller ones, such as The Huffington Post of course, which made millions for its founder largely on the back of unpaid or low-paid workers. For these media giants to routinely abuse copyright they need the public to be ignorant about their rights, and hostile to copyright in general. Creators, either amateur or professional, who know the value of their work to a large media company won't be fobbed off with excuses or credits. And the law is on their side.
This is where the tension comes in. The BBC, and it is far from unique in this respect, has some problems here. Copyright is vital to the BBC's interests, with a value of £8.2bn according to the corporation, creators' rights aren't always reflected in its reporting, or respected in practice.
The BBC strips attribution from images uploaded to the site. This creates thousands of "orphan works". As a photographers' group puts it, it is the creator of orphan works on an industrial scale. In its Hargreaves submission (PDF/120KB), the BBC argued for a system that would allow it to pay below-market rates, remove liability, and even oblige creators to settle for a credit rather than cash. These were enthusiastically adopted by Hargreaves. The government likes the idea, but says the broadcaster should pay market rates.
Another problem is the BBC's reporting of creators' rights issues, which is anything but impartial. Coverage rarely, if ever, explains that creators' rights are a universal human right, that these are automatic, and that large media companies must ask permission for your stuff. Or that large media companies generally should pay you when they use it. And that the law is on your side in getting payment out of the reluctant publisher. The "experts" the BBC typically chooses instead reflect the view that rather than working in an individual's favour, copyright is incomprehensible and malignant, and is used to repress us. (This is Google's view, too – see here). They are, typically, activists with an axe to grind – such as this one: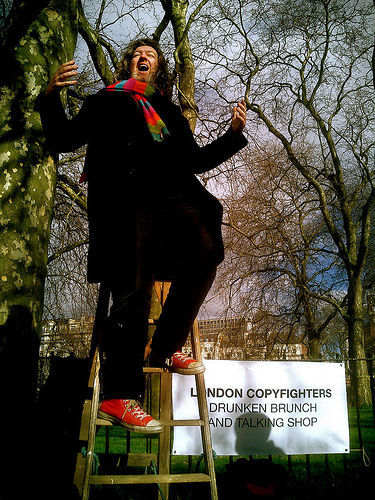 An unbiased BBC copyright expert
Pic: Cory Doctorow
Or take a look this hagiographic profile of his strange friend. Sometimes these activist "experts", can mislead so wildly, they cause the presenters panic attacks. It really isn't in the public's interest to be misled or ignorant about copyright, but with reporting like this, they'll certainly stay that way. And one of the biggest beneficiaries will be giants such as Associated Newspapers and the BBC.
A change in approach to reporting about the rights of creators as something that helps the individual is hard to imagine, given that hostility to those rights is endemic in "social media" evangelism, and that this is practically a religion at the corporation. Change probably requires a Maoist-style purge (very unlikely) or generational change (which is slow). So a lot of education is needed, and a reminder about the charter obligation to be squeaky clean.
While the BBC operates under a unique charter, that doesn't place it above the law. ®