Benchmark results
To be fair, though, the Mac Mini managed a very respectable 82fps when running Far Cry 2, which is about 90 per cent faster than last year's model (45fps). Just remember that the entry-level £529 version of the Mac Mini has the same underwhelming Intel HD 3000 graphics as the new MacBook Air, so gamers will need to cough up the extra cash for the AMD graphics in the £699 model to get these numbers.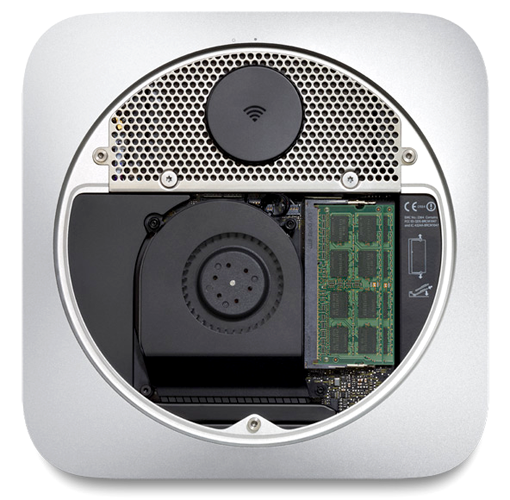 Tight fit
Mind you, Apple's removed optical drive from this year's Mac Mini, so you won't be installing many games onto it, or playing many DVDs, or ripping your music off CD – unless, of course, you fork out an extra £66 for the optional external SuperDrive. I can understand the lack of an optical drive in the ultraportable MacBook Air, but removing it from a desktop home computer that's clearly designed with entertainment in mind is rather limiting.
Benchmark Tests
PCMark Vantage Results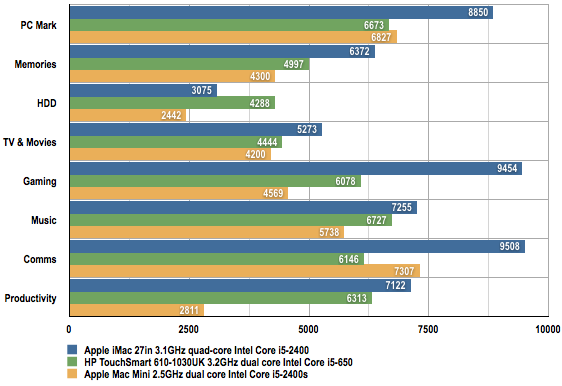 Longer bars are better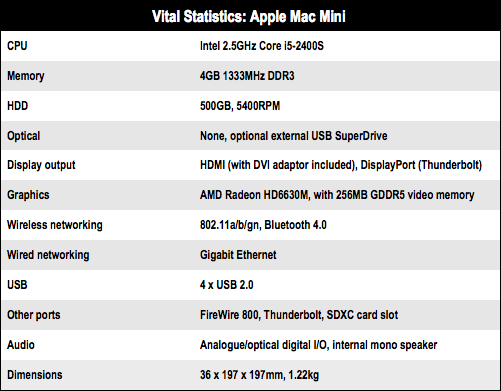 COMMENTS
No longer a media server
Apple's removal of Front Row from Lion and failure to replace it with anything means that the Mini is much less use as a media server than its predecessor.
Given that everyone I know who has a Mini uses it as a combination AppleTV/PVR/Music Server, I can't see who Apple think will buy this now.
It sounds weird to say this, but Apple appear to have completely lost the plot when it comes to media playback. The AppleTV is rubbish without storage if you don't have a rock-solid fast network connection, the alternative of using a Mac Mini instead is now blocked off because they've dumped both the optical drive and crucial piece of software.
I don't know where they're headed, but it looks like a complete dead end.
Shame, that
The Mini's always been a great idea let down by a price tag that's just too fucking silly for the hardware you get. Removing the optical drive from a home box like this and then offering you a Superdrive (the most over-priced USB optical drive I've ever seen) is just par for the course, sadly.
@Dayjo
"I've not used my DVD drive in my desktop PC in probably 3 or 4 years."
Good for you.
However, basic level home users that are likely to be buyers of such a device may well want/need one.
External drive
Why would I need to pay £66 for an external Superdrive when I can pick up a standard external DVD for about 15 quid? Any external USB DVD drive will play nicely with a Mac.
In fact I can even burn Blu-Rays on my Mac even though as far as Apple is concerned Blu-Ray does not exist and anyone who says otherwise smells of wee.
About time.
The Mini was released a MONTH ago. It took you that long to say the exact same things everyone else said on release day?