Orange signals mobile broadband tariff tweaks
Box of MiFi tricks up its sleeve
Network giant Orange has refreshed its mobile broadband plans while touting a new Wi-Fi device for those on the move.
Orange's 'Small' plan offers an initial allowance of 500MB and costs £10 a month. Although for a fiver more, customers can benefit from the 'Medium' plan, which doubles the allowance to 1GB and throws in unlimited Wi-Fi.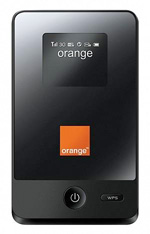 Those with demand for more - or sufferers of Goldilocks syndrome - may want to move to the 'Large' plan, which offers 3GB allowance as well as the free Wi-Fi for £30 a month.
Customers already on the network - be that home broadband or mobile - will benefit from a £5 reduction of these figures.
The company has also announced a palm-sized wireless receiver box, which supports up to five connections simultaneously, and packs a Micro SD slot for sharing files between devices. The Orange E5830C Mobile Wi-Fi kit will be available in the coming weeks, with prices ranging from £20-60 depending on the mobile broadband tariff chosen. ®
Sponsored: Fast data protection ROI?