IBM PC daddy: 'The PC era is over'
Chucks own invention into vinyl record bin
One of the dozen engineers who designed the original IBM PC, which celebrates its 30th anniversary on Friday, says that the reign of the personal computer is coming to an end.
"They're going the way of the vacuum tube, typewriter, vinyl records, CRT and incandescent light bulbs," writes IBM's Middle East and Africa CTO Mark Dean in a company blog post.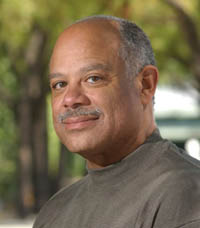 Mark Dean
"When I helped design the PC," Dean writes, "I didn't think I'd live long enough to witness its decline. But, while PCs will continue to be much-used devices, they're no longer at the leading edge of computing."
Dean, who now uses a tablet as his "primary computer", believes that computing is no longer centered around devices, but instead on people's interaction with them.
"These days," he writes, "it's becoming clear that innovation flourishes best not on devices but in the social spaces between them, where people and ideas meet and interact."
It is, of course, to be noted that Dean is toeing the company line. IBM is extricating itself from making devices, and through its Smarter Planet initiative is focusing more on outcomes and usage models than mere hardware.
Dean acknowledges this. "An essential part of our continuous transformation is a strategy of leaving commodity businesses and expanding in higher-value markets," he writes. "Over the past 10 years, in addition to leaving the PC business, we also exited disk drives and printers."
He might also have expanded his timeframe and mentioned typewriters, as well. IBM abandoned its market-leading IBM Selectric in 1986, having replaced it with the IBM – then Lexmark – Wheelwriter in 1984.
And now IBM – or, at least, one of its veteran execs – finds itself in agreement with Apple CEO Steve Jobs, who when unveiling the iPad 2, famously said that we're living in a post-PC world.
So long, PC. We hardly knew ye. ®
COMMENTS
I think I've heard this one before
Guess I'd better put my PC in the bin with all that paper I don't use anymore...
Sir
Ok, I'll start - here's how it used to be..
There I was, watching some TV (on my PC) whilst checking the Reg, and keeping an eye on my email.
In the background I have a linux distro downloading and I'm ripping some of my films with AnyDVD, then I'm using DVD shrink to convert them to single VOB files and transferring some I did earlier off to my NAS drive.
That was how it used to be, about 10 seconds ago.
I suppose in 10 seconds time (i.e. the future) I will be able to close down whatever email app I'm using on my fondleslab to play a game, then shut that down in order to watch a movie, then shut that down to make sure I'm up to date with my email/IRC chats. It must feel like the future, living in the future like you do.
-1
Am I the only one who gets decidedly dis-chuffed when people keep claiming that this or that is 'over'. WTF! Are they time travellers or something?
P.S.
If memory serves me correctly, they are usually wrong.
not wanting to get all technical
but that was exactly what use cases were designed for.
a writer will, primarily, want to create and format text, do some research, maybe move about for 'inspiration' ie they want a reliable machine with a good keyboard, probably a laptop.
a graphic designer will want a good display, input choices and a good display. likely a desktop machine with lots of processor grunt, a very large, high end display and graphics tablet, possibly combined. so a desktop based system
a gamer will want a machine with lots of grunt, processor and graphics, high memory, low response times, good display. They will want a desktop or very high end laptop, serious gamers want a desktop.
a developer will want lots of memory, good keyboard, good processor, possibly graphics, depending on what they develop. high end laptop or desktop.
If, however, all you want to do is faff about on twitter and facebook, watch youtube, browse the net, send the odd email, play angry birds. Then yes a tablet is ideal.
if you think you may want to do a bit more, possibly write something more substantial than a paragraph, create a few basic graphics, do some calculations with a spreadsheet. Then you need a bog standard pc as well as your tablet.
alternatively, you could always have a tablet, with a stand, and add on keyboard, with external memory/disk... but that would just be silly, especially when there are better tools designed specifically for those scenarios.
I'm sick of this really
And it is getting us nowhere.
Computers are essentially the same things as they were when this chap cobbled together some spare parts at IBM to compete on a market they (IBM) had no interest on (That's why the original PC's were so crappy BTW)
Now if you tell me that because of advancements in miniaturization, reduction of costs and better software, regular people with no interest in computing as a science or as a profession will use computerized appliances to get news or watch media, that's ok for me.
But please, stop this nonsense about the death of the PC this, decline of the PC that it's getting tiresome now.
PC's are not going anywhere, they're multiplying in shape and form, and what my daughter (6yr old) is asking for Christmas is a bloody PC like the one I have in my desk.