Ten... Desktop USB 3.0 HDDs
SuperSpeed storehouses
Product Round-up Despite somewhat lacklustre adoption of the interface in the last 18 months, USB 3.0 is starting to gain a foothold in the consumer market as availability increases and prices fall down to more reasonable levels.
The current offerings of USB 3.0 portable hard drives in our recent round-up turned out to be a pleasant surprise for performance and value. Yet typically portable storage relies on 2.5in drives that limit the available capacity.
In this SuperSpeed storage round-up, 3.5in drives are tested. Intended to languish on your desk these data dumpsters offer a much wider range of capacities. Featuring simple case designs none of the models on test suffered any distracting noise or vibration. While portable to an extent, all the drives here relied on external power supplies.
Each drive is rated bearing in mind cost, capacity and speed with a CrystalDiskMark 3 performance comparison chart at the end.
Buffalo DriveStation HD-LBU3

Buffalo has once again stuck to its traditional format of no-frills drives with the latest USB 3.0 DriveStation. The 2TB disk I have here came out at 1863GB formatted and benchmarked bang in the middle of all of the drives tested.
The ingeniously named HD-LBU3 features a plastic case that can be stood vertically or horizontally and is actually fairly stable vertically, but it does slide a lot as there are only rubber feet at front.
In addition to the drive itself, your DriveStation serial number can be used to redeem a copy of Buffalo Tools, which incorporates backup and encryption utilities amongst other things.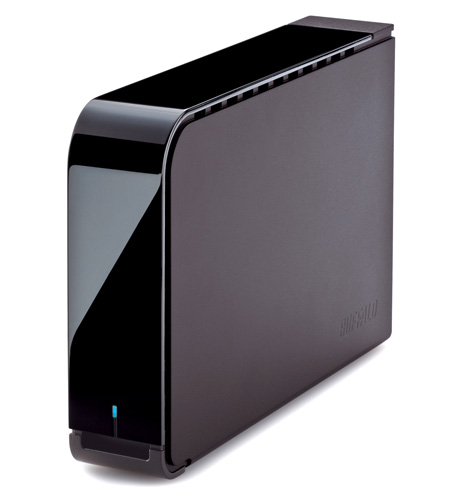 Freecom Hard Drive XS 3.0

Freecom seems to think that its Hard Drive XS 3.0, encased in its thick rubber skin, is the smallest 3.5in external drive on the market so I'll let you in on a secret – it's not. That honour goes to another drive on in this feature.
The XS 3.0 is available in 1TB, 1.5TB, 2TB and 3TB capacities, the 2TB unit I have here has a true formatted capacity of 1863.0GB, the same as Buffalo's DriveStation. Also like the DriveStation, read/write performance is average in the 130MB/s region.
In addition to the drive, Freecom also includes Green Button (power management software) and Nero BackItUp. Apparently Freecom thinks this must be worth a fair bit, as these drives are fairly expensive and only come with a one-year warranty.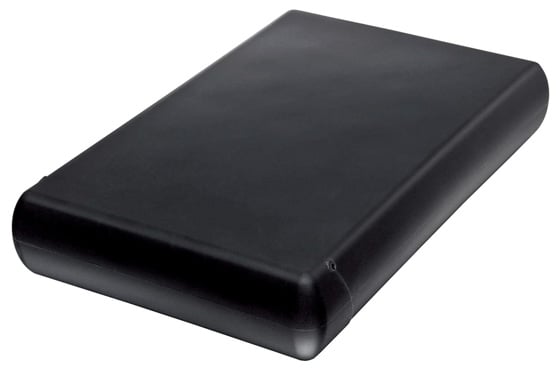 Reg Rating 75%
Price £100 (1TB), £110 (1.5TB), £125 (2TB), £215 (3TB)
More info Freecom
COMMENTS
False Ads by 3TB Hard Drives & Microsoft or a test left undone
I need disc image backups and since I use Win 7 Pro 64 bit, I look for the Microsoft Win 7 logo on the HD package. Since my disc image size is about 600GB, I want something that is big and faster than USB 2.0. Yep, there is a WIn 7 logo on the 3TB WD My Book Essential External Hard Drive USB 3.0. box. Since I could get 2 of them for US$250, I bought two. Shock & ****, I could not use either drive to make a WIn 7 system image. Google the error message - formatting issue. But, on the box was "Formatted NTFS for Windows XP, Windows Vista or Windows 7."
Search on Microsoft and find a posting from 2007 that admits to this "rare error." It seems that Microsoft software does not like the 3TB size. Yep, I have the May 2011 KB update that was to fix this issue installed on my system . I should mention that WD is in big denial of any such problem. Tried using USB 2 instead of USB 3, no go. Formatted HD as exFAT, no go in USB 2 or USB 3. Reformatted back to plain NTFS and wonders, able to make system image in USB 3. Then, several days later, I needed a file back that had been securely erased.
Oh, unhappy days. System will display the system image, but try to restore the system image and the computer tells you - unable to find the system image in either USB 3 or USB 2. I had to copy the system image from the WD to a Verbatim 2 TB External HD USB 3 over 8 hours, then use the Verbatim 2TB HD in USB 2 mode to restore the system image. It seems 3TB is a TB too far for Windows 7. You should tested the use of WIn 7 system image on the various 3TB hard drives because that a major reason to buy 3TB external hard drives
OS centric drives...
OS centric drives simply are not future proof. Anything that forgoes the obvious standard USB driver for something more bothersome is not only locking out current alternatives. It's also going to create extra support headaches in the here and now as well as a whole bunch in the future as tech moves on.
If you have to load a driver to use the disk then it's a big fat FAIL.
Erm
You'd be hard pressed finding a 3.5" caddy that doesn't require a separate power supply.
I don't know of many decent 3.5" drives that will happily spin up on 10V 1A of supply, which is all you can draw from two USB sockets.
2.5" drives on the other hand are more or less designed around lower power draw, so happily power themselves off a USB cable. 7200rpm drives often need two ports though to spin up.
How many of them *require* windows or macos?
One trend I have noticed recently with many of the boxed HDD solutions is that they are no longer simply hard disks in a box, so if you want to use them at BIOS level, they aren't accessible.
Western Digital & Seagates are particularly bad for this now, the older passports were pretty dumb, but the new ones have custom circuitry that requires drivers to be installed before they can be accessed. I guess it makes one-touch backups easier, but plays merry hell if you want to use them with a bootable CD or alternative OS.
@All of them need their own seperate power-supply?
Then why did you bother looking at an article that clearly stated they were desktop drives that 'might' be considered portable?
Strange comment....