Grow up, Google: You're threatening IT growth
The Montessori School of screwing-up-your-IP-strategy
Comment Google's stroppy-teenager ethos to intellectual property has been noted here before. But the company's truculent and immature approach is having really serious consequences on its home turf. Google now poses a serious threat to the future of the most explosive new sector in IT hardware: the consumer tablet. And if Google doesn't grow up – fast – Apple will be handed a lucrative monopoly for years to come.
Here's the background. In just over a year Apple has created a huge new hardware market, with its iPad grossing almost as much revenue as PC veteran Dell. This is remarkable for a machine with no killer app, or even a compelling use case. The iPad doesn't do anything a laptop can't – but it makes a lot of things a little bit nicer.
Apple has demonstrated huge demand. And where there's demand, there should be a growing market – with opportunities for rivals. Microsoft doesn't have an offering, HP and RIM won't license their own, and Linux is not quite as mature or polished as device manufacturers want it to be. (More's the pity, with Mark Shuttleworth's Ubuntu still chasing the wrong target, insisting on creating a PlayMobil version of Mac OS X instead). That leaves Google's Android. Android is the industry's choice; it's their best bet to try and grab a slice of this market.
And Google has made a decent, workmanlike effort to create a tablet platform. It's also predictably unoriginal. Like Microsoft, Google's singular innovation has been its business model for paid search advertising. It can't get innovation from its brilliant engineers out to the market, and so copies, and copies, and copies. Companies that copy, and copy, and copy tend to run into IP issues.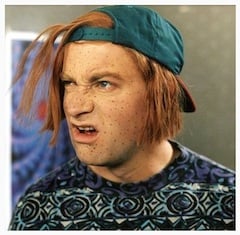 "Nyah"
The specific problem is, faced with a patent situation, Google has played the game ineptly, and refuses to shoulder the consequences. This week we saw Apple win an injunction against Samsung, and another against Motorola. That's the two biggest players locked out. Google knows it is in patent trouble, but it won't indemnify the Android licensees. The Oracle case against Google also looms large, seeding uncertainty amongst OEMs and investors in the platform. When patent issues struck Linux seven years ago, platform investors rushed to reassure licensees they wouldn't feel the blowback. Sun and HP promised to indemnify their users. But Google feels its responsibility ends at its firewall.
Actually, it is worse than that. Google treated building up a defensive patent arsenal as a joke. When Nortel's patents came up for auction recently, Google made a succession of bids that were mathematical in-jokes – culminating in a bid of $3.14159 bn.
This must have been hilarious at school, but treating it as a Montessori class isn't appropriate when an IT sector hinges on a Google taking its responsibilities seriously.
Google has a deep problem here. It hates the idea of intellectual property (except its own), and this hatred is part of the company's DNA. IP has no place in the utopian paradise Google thinks it stewards. So Google sponsors front groups, think tanks, academic's legal departments, all waging the fight against copyright and patents. Much of this is documented for the first time in a new book by Robert Levine, Free Ride. And it goes to the top. Levine tells the story of journalist Ken Auletta, who wrote Googled: The End of the World As We Know It. Auletta was speaking to Sergey Brin.
"Why don't you give your book away for free?" Brin asked Auletta. The journalist explained that cash would help research the book, edit it, and promote it from the sea of dross on the internet.
The "usually voluable" Brin fell silent, as if the thought had never occurred to him. Page is even more naive, and much more combative.
Now when it comes to software patents, I'll agree there's a strong case for urgent reform. There are problems with large companies using them anti-competitively against startups, and problems for startups protecting their genuine innovations cheaply and quickly, as they deserve. There's a nest of issues here – and addressing them is going to be a long-term slog. In the short term, Google is killing the tablet market.
It may be better for everyone if it falls to someone other than Google to lead the IT industry's charge into the tablet market. Android has turned out to be a barren ground for OEMs. Google's insistence on taking revenue share will almost certainly lead to Android forking in the smartphone market: and it's already forked on the tablets, as analyst Benedict Evans has pointed out.
What outsiders, particularly in the non-technical, policy-making elites, need to remember is that when Google comes to the table, it has an axe to grind. Just like everyone else. ®
COMMENTS
Software Patents...
...are a solution to a problem that did not exist.
Software was protected through copyright not patents. If you write a piece of software that is cut and paste from someone else's copyrighted source code then that is wrong and you should get dinged for it. That is already covered under copyright law.
If you write the code independently and it does the same thing as another company's software then that is fine as proven in the landmark Apple Computer, Inc. v. Microsoft Corporation, 35 F.3d 1435 (9th Cir. 1994) case. "Look and feel" cannot be copyrighted.
Software patents allow concepts and imagined ideas to be protected and that is quite simply stupid. Stroking a finger across a tablet surface is subject to a patent. The shape of a phone is patented. Even packaging is being claimed as being company protected. This is sheer lunacy and kills innovation. Yet, it is the law in the US and will continue to employ many lawyers as long as the legislation exists.
What Google (and us) need Google to do
Is forget trying to out patent those twats at MS/Oracle/Apple and whoever else is benefiting from the ludicrous patent system and lobby the governments of the world to overhaul software patents, ban them even.
Unless that happens we'll get to the point where almost everything is patented or at least no normal companies can respond to challenges, and there'll be a) no innovation and b) product prices will go through the roof because 90% of the cost will be license costs (see MS's $5 per HTC phone for the start of it)
I.e.
patent lifetime short - if you've not done anything with your invention within 5 years that's your own bloody fault
limit sale of patents - you can license of course, but no selling patents - if you didn't invent it then you've no right to call it yours, that should include buying companies purely for patents.
(Re)define invention - apple really takes the piss here, you all know what I mean.
RE: So what innovation is really being killed by patents?
>> I reckon quite a lot but you don't generally get to hear about most of it.
The problem now is that patents are largely a tool owned and used by big businesses. They amass **HUGE** quantities of them, and keep patenting every more varied derivations from the same basics - as well as new areas.
The problems are many fold :
1) They no longer work as intended. Many patents are so "wooly" as to be virtually useless in actually understanding what's going on - and so society isn't actually benefitting from publication as was intended.
2) Because of the sheer number and breadth of scope, it is impossible to do a full search and find all patents that may, or may not, apply to your new widget.
3) Because of 2, it is now almost impossible to make anything that doesn't infringe on someone's patent. Your only way of knowing is to see how many letters arrive accusing you of infringement.
4) The system is broken. When the letters do arrive, unless you are also a big business, with your own arsenal of patents, then you have just two options - shut up or pay up. In effect, it matters not whether you actually infringe on someone's patent, it will cost more than a small business can afford to go to court and win. If you do win, you will still be out of pocket as you won't get your legal bills paid by the other side - perhaps in part, not in full.
5) The system is broken. If someone does infringe on your patent, unless you are a big business (note the pattern here ?), then it's unlikely you'll be able to afford to defend it. In effect, a big business can just take your invention, steal it, and screw you in court until you run out of money and fold. It's happened time and time again.
The original idea behind patents was that in return for publishing details of your invention, and so enriching scientific knowledge in general, you got a limited time in which you could prevent anyone else using it without a licence from you. So if you came up with a great new idea, you could share it (society benefits) and you could also still benefit from it. This was seen as a win-win situation as it genuinely encouraged innovation as you actually had a chance to benefit before others just copied you.
Now it's stifling innovation. It's a brave inventor that tried to get anywhere now without backing from a big business. If you do come up with something genuinely new then it's expensive to get a patent and even prohibitively expensive to actually use it. Meanwhile, those same big businesses will almost certainly find a patent they can accuse you of infringing, and so can effectively shut you down - even you aren't at fault.
That brings us to the argument in the article - that Google was stupid not to buy Nortel's patents when it could have done. These days, as explained above, business is done like the cold war - you need to have enough weapons (patents) to shut down the opposition so that they'll be too scared to use their's against you. That was a big problem for Apple when it started making phones - people like Nokia have so many relevant patents that Apple could not avoid infringing on them, and not having anything to fight back with, Nokia (and others) could effectively name their price.
So the current patent system, especially in the US, is broken. The period of protection is too long. Patents are awarded too easily. It's too costly for small guys to get a patent. It's too costly for a small guy to enforce one. It's too expensive for a small guy to defend against an infringement charge.
Not convinced
I'm with Google on the patent thing - they think it sucks, and really don't want to spend $4BILLION on a portfolio. Why would they. That's a lot of cash.
I can't figure out though why they are not putting more effort in to protecting Android customers. Or maybe they are behind the scenes. Who knows.
But Google being the death of growth? Maybe a tad hysterical. Patents are the death of growth. Not Google.
Exactly
A company that I occasionally freelance for building Android apps sticks purely to the European market because they do not want to get involved in all the bull-crap surrounding software patents.
Granted they're probably losing a huge amount of sales, but I imagine those sales don't come anywhere near the loss caused by a patent lawsuit in the land of opportunity.
The idea that you can patent "one click purchase" or even the idea of a combo box is ridiculous.