Apple patent disputes Xoom towards Motorola
Slates the competition
Motorola could be next on the chopping board for Apple, after the Cupertino giant filed complaint against Moto's Xoom tablet design.
Apple struck out at Samsung this week for patent infringement regarding its recently launched Galaxy Tab 10.1. According to Foss Patents, the buck doesn't stop there, though, with Apple also going after Motorola over the design of the Xoom tablet.
"Prior to or simultaneously with the motion for a preliminary injunction against Samsung, Apple also filed a complaint.. over the design of the Motorola Xoom tablet," it reads.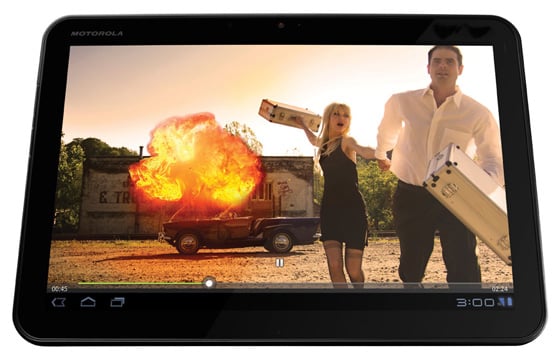 Apparently, Apple complained to the same court in Düsseldorf, although there's no indication if it included a request for a preliminary injunctions.
"While it's not stated explicitly, I suppose that the complaint against Motorola also asks the court for an EU-wide injunction – but perhaps just for a permanent injunction without a previous preliminary one."
The Xoom has been on sale for over a month now, so a permanent injunction is more likely to succeed, as preliminaries are normally used to challenge a product as it hits the market.
If it succeeds at all, that is. For now though, Apple's major beef seems to be pointed towards Samsung.
This week Motorola Mobility CEO Sanjay Jha talked up the company's back catalogue of patents – highlighting how a strong intellectual property portfolio makes a significant difference in the Android handset market.
Did someone speak too soon? ®
COMMENTS
One of these days..
...Apple is going to go up against a company that has a lot of phone-related patents. In fact, they may just have done.
Motorola make a lot of products. Apple make the iWotsits. Motorola can probably survive an injunction against one tablet far more easily than Apple could survive, say, not being able to sell any iPhones anywhere. If Motorola decide to slap Apple as hard as they can, I think the results could be quite amusing.
Many years ago, I said that Apple are just as bad as Microsoft if not worse. Every day in every way they continue to prove me right. Seriously, patenting a rectangle with a screen on it? A grid of icons? And going after tablet vendors over alleged UI infringements when it was Google that made the UI? How very Microsoftian.
What happened to competition?
Just because Hoover's name is synonymous with vacuum cleaners doesn't mean that other companies can't make/sell vacuums.
Apple needs to shut up, and the EU competition commission needs to grow a pair and stop these anti-competitive law suits. At the end of the day one hoover, er, I mean vacuum ;-) looks like another. As does one fridge, one car, one pair of shoes........etc. But they aren't sueing each other like this.
Come on Apple, stop being a pathetic bully boy. The tablet computer wasn't even your idea, neither was the computer, the smartphone, online music service, the word app......catch my drift?
-1 for the link to Mueller
He's consistently waging a negative campaign against Google and Android, and writers at the Reg and elsewhere are continuing to lap it up.
are cupertino
actually scared of these other Tablets? Because that is what this looks like not just protecting their IP.
Stupid I say, and bully boy tactics AGAIN from Steve et all.
Nuts
How are Apple getting away with this, it is nuttier than a wagon load of pralines?