US Air Force in a seriously stealthless state
F-22s and F-35s grounded
The US Air Force has been left seriously short of stealth capacity following the grounding of its F-35 Lightning II Joint Strike Fighters (JSFs), while its F-22 Raptor fleet has been stuck on the tarmac since May.
The US's entire stealth aircraft capability currently comprises just 20 operational B-2 Spirit bombers.
The USAF is putting 20 examples of the F-35 through their paces - these are the "A" variant designed for conventional runway operations. One of these last week suffered a failure of its integrated power package (IPP), which "combines the functions performed by an auxiliary power unit, emergency power system and environmental controls".
The force's 150 frontline F-22s, meanwhile, are still being examined for a possible problem with their oxygen generation system. Several pilots complained of "memory loss and disorientation during flight", according to Wired, and carbon monoxide poisoning may have been responsible for a fatal crash last November.
Wired notes that, back in 2002, the plan was to have 90 JSFs in the air by 2012. The Air Force's F-35As may not now be operational until 2016, around the same time as the Navy's F-35C catapult-launched version, which recently completed its first test launch:
The US Marines' future airborne capability rests largely on the short take-off and vertical landing F-35B. The aircraft has just strutted its stuff to reporters for the the first time, lifting off in less than 450 feet and demonstrating its hover and vertical touch-down capacities (see pic).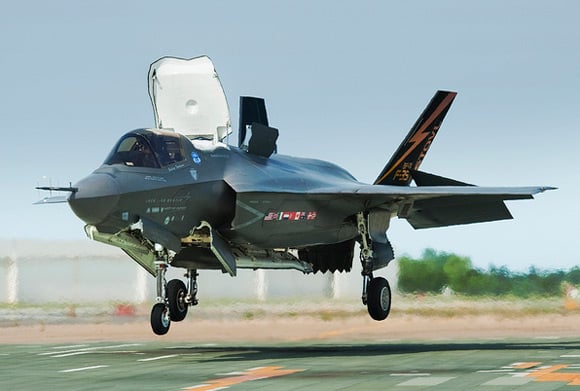 The Marines plan to use the F-35B for amphibious assault ship operations, and the aircraft will sail in September for initial sea trials. The service is also, however, planning to acquire 80 F-35Cs to support Navy carrier operations.
The British Navy also intends to use the The F-35C from 2020, aboard its single planned carrier. ®
Sponsored: Minds Mastering Machines - Call for papers now open