Apple injunction startles Samsung
Settling the Tab
Samsung has responded to Apple's sudden legal request against the Galaxy Tab 10.1 with surprise, claiming the injunction came out of the blue and the company never had a chance to present its side of the argument.
A Samsung spokeswoman issued a statement that said the company was "disappointed" with the court's decision to put Galaxy Tab 10.1 sales on hold, CNET reports.
She said, "We intend to act immediately to defend our intellectual property rights through the ongoing legal proceedings in Germany and will continue to actively defend these rights throughout the world."
According to Samsung, the request for the injunction was filed with no notice whatsoever, and the order was issued "without any hearing or presentation of evidence from Samsung".
The company says it will take all "necessary measures to ensure Samsung's innovative mobile communications devices are available to customers in Europe and around the world", and that the decision by the German court in "no way influences other legal proceedings filed with the courts in Europe and elsewhere".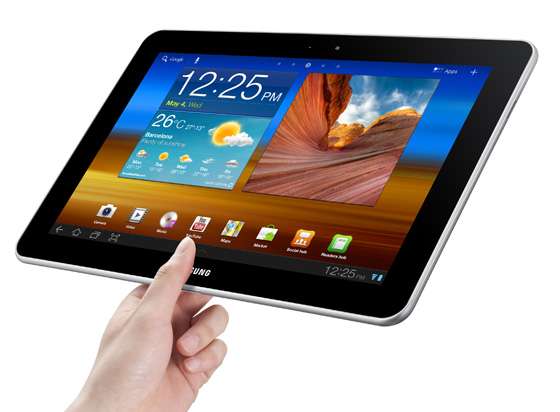 Quite a hold up
Apple keeps repeating the same reasons for its Samsung spat. In a reissued statement, the company said, "It's no coincidence that Samsung's latest products look a lot like the iPhone and iPad, from the shape of the hardware to the user interface and even the packaging… this kind of blatant copying is wrong, and we need to protect Apple's intellectual property when companies steal our ideas."
The Samsung Galaxy Tab 10.1 has already gone on sale in Britain and there are no signs of a U-turn. Dixons Retail - who started selling Wi-Fi only versions of the device last week - says it has had "no legal instruction to remove the Samsung Galaxy from sale". ®
Sponsored: Minds Mastering Machines - Call for papers now open