Panasonic preps Pocket Server
I wandered wirelessly as a cloud
Panasonic has unveiled a Wireless Pocket Server which lets users stream content to iOS devices, preserving precious storage space on these Apple gadgets as well as other Wi-Fi enabled gear.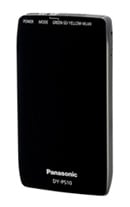 Aimed mainly at iPhone and iPad users, the Panasonic Pocket Server DY-PS10 streams files stored on an SD card. It handles a range of formats including H.264, JPEG and MP3 and the battery throws out 10 hours of playback.
The Panasonic DY-PS10 hits Japan on 15 September for ¥14,000 (£113).
Wireless portable storage has been gaining traction in the tech world, the AirStash was among the first of this ilk, but has yet to show up in Blighty.
Kingston's Wi-Drive is a much more recent offering. Similar in concept, it allows up to three iOS devices to connect at once. It doesn't feature removable storage, which certainly looks like Kingston missed a trick there. ®
COMMENTS
Let me guess...the response you're looking for is......
(snigger) But iThingy's don't have SD card readers (snort).
Well done, I took the bait.
The title is required, and must contain letters and/or digits.
That wouldn't be magical and innovative enough for Steve.
Eh?
Why did you mention you rooted it?
You could equally do that on a stock ROM
More free advertising for MiFi
I've got a 3 MiFi (Huwaei) has a microSD card slot, and as well as providing a wireless network to up to 5 devices with 3G, it will also act as a file server. Not bad for £50 and £10 a GB PAYG - or £15 a month for a 5GB contract.