Five... freshly picked iOS gaming apps
The latest from Apple's amusement arcade
Quiz Climber

Some philosophical dude once said, "Wisest is he that knows he knows nothing." After my shockingly bad performance on Quiz Climber, Chillingo's addictive, multiple-choice, general knowledge quiz game, I'm praying he's right.
Okay, so it's no great embarrassment I thought Bow Wow was a brand of dog food and not a famous rapper. And answering Gene Wilder as Star Trek's creator was a simple slip of the finger, honest. But the problem is I'd already invited my friends to compete against me through the integrated Facebook leaderboards, so my carefully crafted faux-intellect has been revealed for all to sneer at.
I suspect some of those 'friends' have been cheating, ahem, racking up high scores by buying lifelines with real cash. I'm too principled for that, you understand. So instead I've been banking lifelines earned through playing – lots and lots and lots of playing.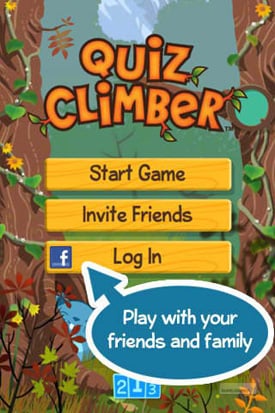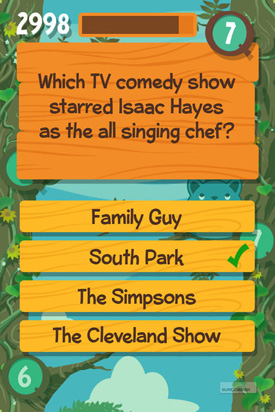 Reg Rating 75%
Price Free with ads or £1.49 ad-free
Publisher Chillingo
More info Quiz Climber on iTunes
Ninja Fishing

Seven years old, cowering in an open-faced fishing tent in heavy rain, soaked to the bone, peering through the thick smog of my dad's Golden Virginia rollies, maggots crawling in sawdust pots or leaking pus on the end of a hook. Watching interminably for a bite that never came. In many ways, Ninja Fishing is a lot like my first and only fishing trip.
Cast your line, trying for maximum depth using the tilt controls to avoid fish on the way down. Get too close and a tap of the screen converts your hook into a drill, blending fish into puffs of red mist. Reach the bottom and there's a chance to grab the treasure chest full of gold. On the way back up it's a race to hook as many fish as possible before you loft them into the air for a Fruit Ninja-style slashathon. The more fish you gut, the more gold collected. But watch out for the random sticks of dynamite that end the game early.
An RPG system upgrades weights, line length, drill oil and Katana blades, so you can fish deeper depths for more exotic beasts. But Ninja Fishing's simple hook quickly proves monotonous, as its mechanics are rinsed and repeated ad nauseum. The perfect fishing simulator, then.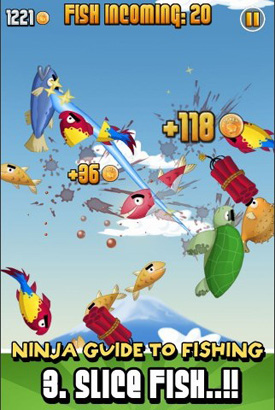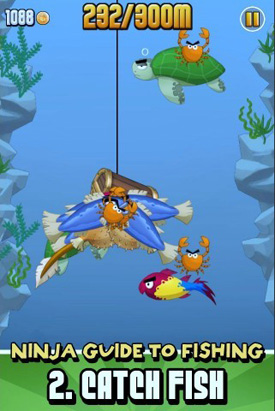 Reg Rating 50%
Price £0.69
Publisher Gamenauts
More info Ninja Fishing on iTunes
Sponsored: Minds Mastering Machines - Call for papers now open