For such a feature-laden device, it's mercifully easy to use. The menu system is logical and there is a very handy user-definable shortcuts page. The CPU may only clock at 400MHz but the UI still moves at a reasonable clip, even if panning across maps is not as swift as the latest generation smartphones.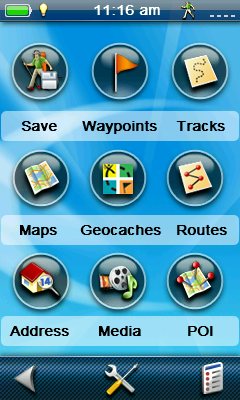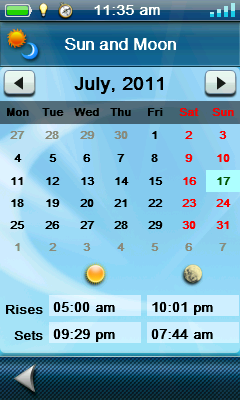 Main menu and daylight hours
The shortcuts, along with the three other main menu pages, can all be accessed directly from the map screen with a simple tap launching a menu icon in each corner. Magellan calls this Four Corners navigation and it's a simple but effective system.
The two large rubber side buttons by default fire up the camera and let you add waypoints with one press and both can easily be used while wearing gloves. Either button can be resigned to any one of 26 different functions should you so wish.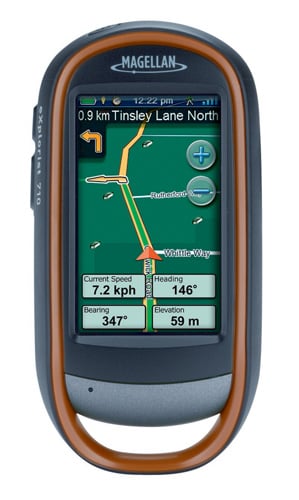 Well-specified, but with a price to match
The 710 is powered by two non-rechargeable AA batteries. Magellan reckons they should be good for 16 hours but I only got around 10 when I used the device continually out on the hill.
Things go slightly off the beaten track when it comes to price because with an RRP £580 the Explorist 710 is not what you'd call cheap, especially when you are looking at another £145 for national 1:50,000 Ordnance Survey coverage. The good news is that, at the time of writing, I found one retailer offering the Explorist 710 with nationwide 1:50k OS maps for £550, which is more tempting. So there are deals to be had if you shop around.
Verdict
There's no doubt the Explorist 710 does everything it says on the box and does it pretty well. On the hill, its ability to give you a pinpoint location is useful if you have OS maps loaded, but the 3in screen is an inherent limitation, although it helps keep it compact. If you travel a lot, are into geocaching and want a GPS tracker, it could be a just the job. Considering its price, you'll need to weigh up whether your needs will take full advantage of the Magellan Explorist 710's features set. ®
More GPS Gear Reviews...

Contour
GPS Bluetooth
camcorder
TomTom
Start 20
Mio
Spirit 687
Mio
Navman V575 TV
Zeal Optics
Transcend GPS
goggles

Magellan Explorist 710 hiking GPS
A robust and versatile but rather expensive hand-held GPS navigation unit.
COMMENTS
Batteries
My review unit came with two flat Energizer Ultimate Lithium AA batteries. I replaced them with two of the same but fresh for my test.
battery query
"The 710 is powered by two non-rechargeable AA batteries".
Alun, do you mean that's what you used when testing, or are rechargeables specifically ruled out by Magellan for some reason? If it's the latter, then DO NOT WANT. My current Garmin (non-touchscreen) unit will chug along nicely for 12 or so hours on a pair of rechargeable AAs.
Resistive Screen
Presumably that's essential, as you'd probably use this thing while wearing gloves...
GPS accuracy
The lake district isn't remote NZ though :)
I don't use it any differently to a paper map, there's plenty of features around to work out where you are and the GPS bit just helps you if you've managed to take a wrong turn (tbh looking at the compass and a map would tell you that quickly enough but it may save you walking 10 minutes in the wrong direction).
Seems Quite Dear
@TWB - it's not as bad as that. They do a whole UK 1:50,000 for about £150.
However, the 1:25,000 national parks and trails series, which is what I'd want if I'm up a mountain in the fog, are £127 a pop!