LOHAN team buried under ballockets
Click here for a shedload of Reg reader spaceplane launch concepts
Well, the doughnut balloon plan kind of has legs, if someone out there can find one, but it is of course just a single unit. That simply doesn't satisfy some of you, including David Green.
He says: "One possibility would be to use a vertical stack of smaller diameter balloons to reduce the required length of the launch boom as envisaged in your published sketch."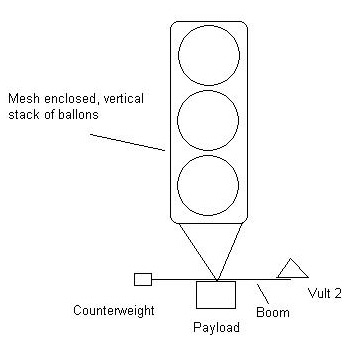 The most popular, three balloon set-up, however, was like this one fired over by Adam Newton: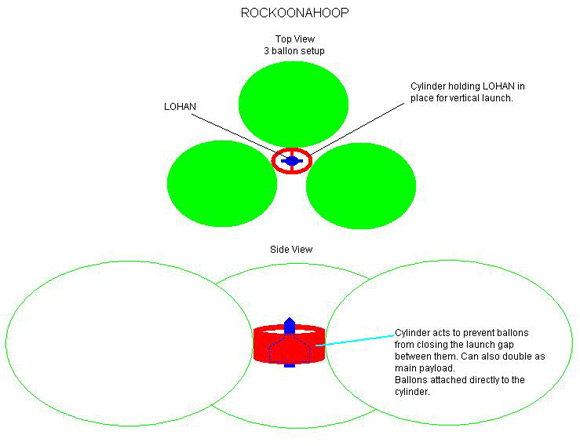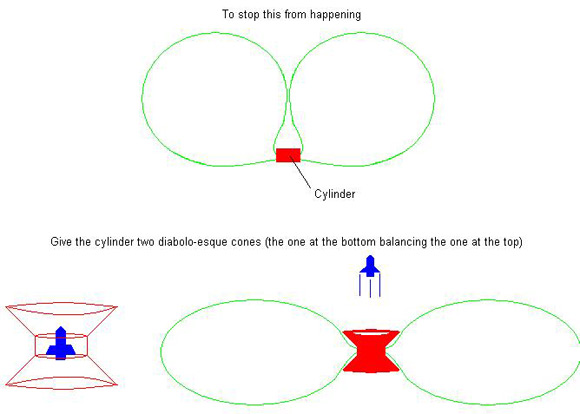 DMoz got busy again, with this trio of orbs: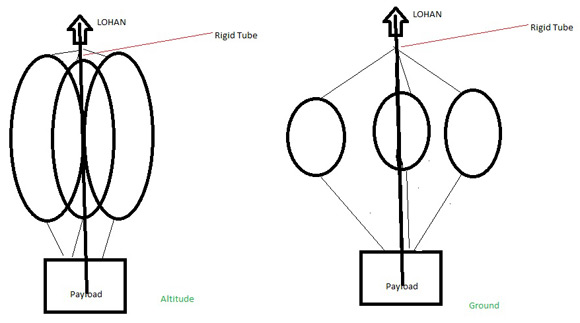 He elaborates: "Essentially the LOHAN craft would be launched from the top of a pole above the balloons. The payload would be situated at the bottom as normal. This can only really work if there is a possibility of attaching stabilising wires to the top of the balloons as well as the bottom, as I can't imagine any cheap substance that will have the required rigidity and lightness to just act as stand-alone (unless you have your own carbon nanotube fabrication plant?).
"Using a tube instead of a pole (is lighter and) enables things to be run from payload up to the craft if needed, but also I am thinking that the support wires could be run through it and attach through the payload to maybe an inertial reel somewhere or the bottom of the balloons allowing the balloons to expand and keep the tension. There would need to be various stops I assume to try to keep the balance, and if the whole system is canted over in high winds you won't get a vertical launch, but it is a thought."
Jason Holloway is also convinced the three-globe set-up is the way to go, and here's his self-explanatory diagram: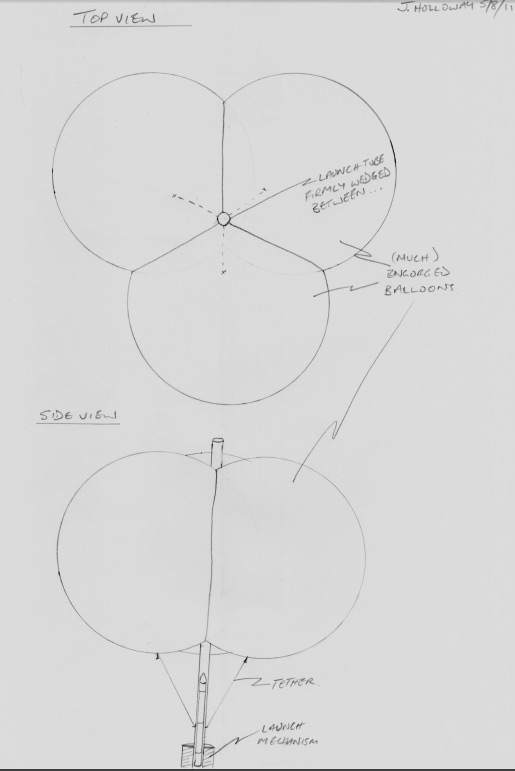 Andrew Sheppard offered the most detailed vision of the LOHAN threesome plan: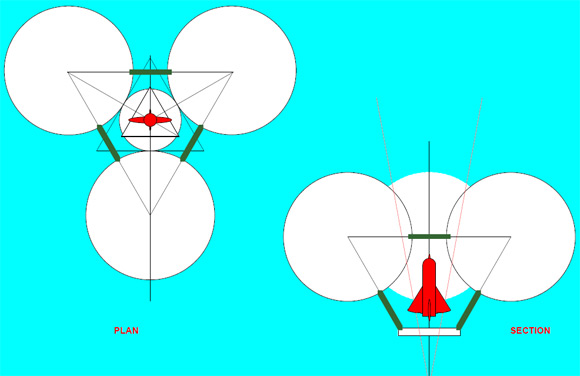 He says: "The diagram, which is drawn to scale, shows a 2-metre wide vehicle and three 6-metre balloons (you work out whether the volume is equivalent to one 10-metre one), separated by three spacing devices and with three suspension elements supporting a launch platform.
"Depending on the configuration of the craft and the dimensions of the spacing device, there is about half a metre clearance from vertical to accommodate wind or wobbly lift-off. The launch platform can contain whatever controls and power is required for the launch vehicle, plus the mechanism to retain and release the craft, but needs no additional counterweight or extended 'booms'."
We should take a moment to salute Tim Parker and Philip Sutcliffe, who sent in similar submissions, before winding to a close with a couple of final ideas.
Sponsored: Minds Mastering Machines - Call for papers now open