Hitachi GST flash stash speed dash
SSD flash price slash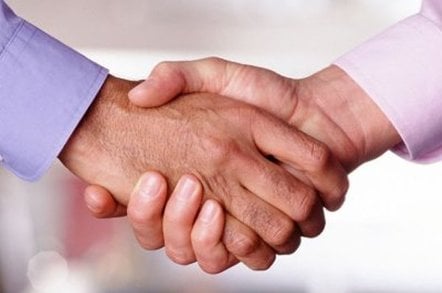 What a turn up for the books: Hitachi GST has just introduced a multi-level cell SSD that's faster – not slower – than its single level cell product. It's also cheaper, but that's expected.
MLC flash is supposed to be slower than SLC flash. The SLC Ultrastar SSD400S does 41,000 and 21,000 random read and write IOPS respectively, while the newer MLC SSD400M does 56,000 and 24,000 respectively. The read IOPS number is 37 per cent higher while the write number is 14 per cent more: kudos to the controller.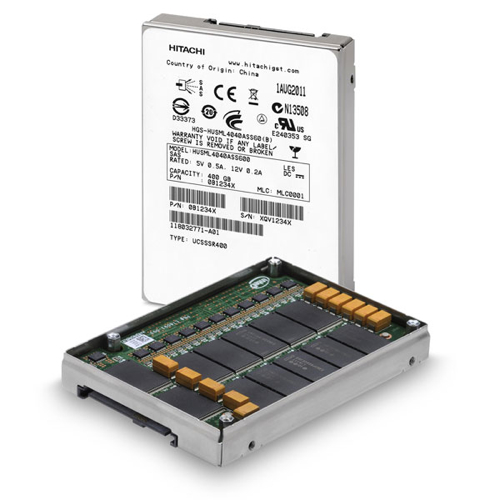 Hitachi Ultrastar SSD400M
Hitachi GST's latest SSD collateral quotes lower Ultrastar SSD400S performance numbers than it first provided in November last year, by the way. The 41,000 IOPS number used to be 46,000 for example.
The SLC model is faster in bandwidth terms, achieving 516MB/sec sequential read speed and 458MB/sec write speed; that's with the 6Gbit/s SAS interface. It slows to 390MB/sec and 340MB/sec respectively with a 4Gbit/s Fibre Channel interface. The MLC Ultrastar400M compares more than respectably at 495MB/sec sequential reading and 385MB/sec sequential writing with its 6Gbit/s SAS interface, so it beats the FC interface version of its SLC brother.
The Ultrastar SSD400M has 200 and 400GB capacity points, a 6Gbit/s SAS interface, and uses 25nm Intel NAND. It has the same enterprise features as the Ultrastar400S and its endurance is 10 full drive writes a day for five years: equivalent to a 7.3PB write total. A self-encrypting version is available. There is a 2 million hour mean time before failure number, a 0.44 per cent annual failure rate, and a five-year warranty.
MLC vs SLC, Intel positioning and competition
HGST says the SLC drive has better write endurance and reliability while the MLC products "cost less, allow for higher storage density and are used primarily for read-intensive applications". The company envisages flash data stores using both kinds of flash, SLC and MLC, in a tiering arrangement. Our take on that is that there simply isn't enough performance difference between the two Ultrastar SSDs to justify that, unless the MLC version is the faster tier with the SLC version being in the slower tier; completely the opposite of what you would expect.
Intel's coming 720 SLC SSD should do 180,000 random read IOPS, 56,000 random writes, 2.2GB/sec sequential reads and 1.8GB/sec random writes, totally outclassing Hitachi's Ultrastar SSD400S. No doubt the pricing reflects this, but having your SSDs co-developed with Intel, which is competing with you in the SSD marketplace, is a recipe for this kind of unwelcome comparison.
Hitachi GST's MLC product could almost be viewed as rendering the SLC one redundant, were it not for the SLC model's longer write endurance and reliability claims, and its reasonably higher sequential bandwidth.
Among other 2.5-inch MLC flash drives, Corsair's Force Series3 is faster than the Ultrastar SSD400M, as is SMARTs XceedIOPS2 and Optimus. Development is so fast in the flash product space that performance leapfrogging seems to happen in months. Any lead Hitachi GST has may well evaporate by the end of the year.
The Ultrastar SSD400M is in qualification with certain OEMS now, and can ship in sample numbers for new OEMs. ®
Sponsored: Minds Mastering Machines - Call for papers now open