GE brings holographic storage back from the dead
Format might erupt in the sector
InPhase reviving – maybe
InPhase, with its 300GB, 20MB/sec Tapestry holographic drive, is not dead yet. The leading VC guy behind the company. Bart Stuck, the managing director of Signal Lake, told us that "a viable operating plan for taking InPhase to positive cash flow has been put together, by Art Rancis, CEO, and Jim Russo, EVP of Engineering, and it has been vetted by six different individuals with significant product development/marketing experience."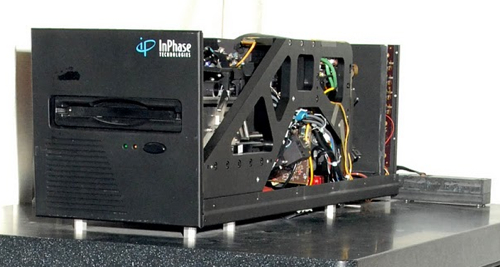 InPhase holographic storage drive
"This plan requires far fewer drives and media to be sold than any earlier plan, and hence requires far less time and money than any earlier plan to reach positive cash flow. InPhase can manufacture inside its Longmont CO facilities all drives, media and libraries needed to reach positive cash flow, and for now sees no need for outside contract manufacturers."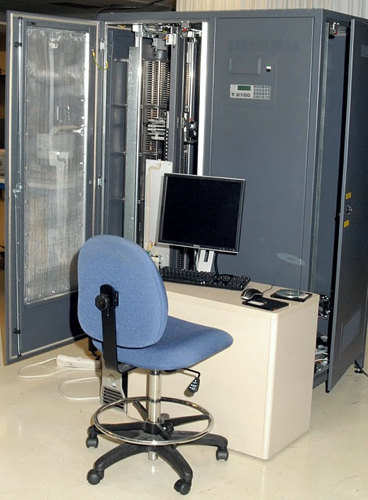 InPhase Terastore library
He says there are product orders in the pipeline: "InPhase has concentrated on archival storage markets, and is expanding its anchor customer base significantly right now; the orders in the pipeline are sufficient to take InPhase to positive cash flow [and] InPhase is recognising revenues from its patent portfolio through licensing."
He says InPhase has volume shipments planned to start next year and "InPhase intends to expand the holographic storage ecosystem through patent licensing with major partners around the globe; a number of agreements are already in place, and more are forthcoming."
As for GE's holographic initiative: "InPhase began recognising revenues from licensing media in 2002. [I'm] glad to see GE will be doing so next year."
This sounds promising. Let's hope it comes off and that InPhase's long march to deliver its holographic technology arrives at its destination. ®
Sponsored: Minds Mastering Machines - Call for papers now open