Pierre Cardin joins tablet trend
Fashionista fondleslab
Pierre Cardin's entry in to the fondleslab fray is yet another indication of just how in vogue tablets are these days.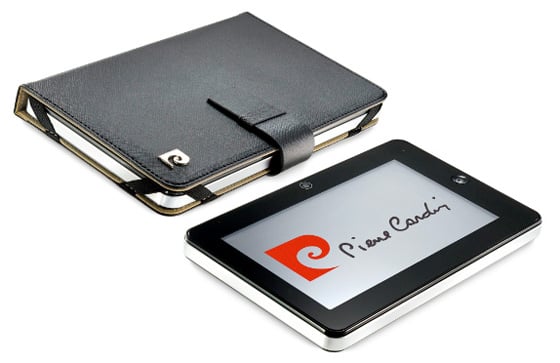 As far as tech trendsetting goes, the Pierre Cardin Tablet PC is a tad retro given that it runs on Android 2.2. It features a Samsung S5PV210 Cortex A8 1GHz processor, 512MB Ram and comes with 4GB of internal storage plus micro SDHC expansion. The 7in capacitive display has a 800 x 480 resolution.
The PC Tablet PC has access to the Android Market and other Google Apps, although the device only natively supports Wi-Fi connectivity. For 3G, there is an additional dongle.
The Pierre Cardin PC-7006 Tablet PC comes with a tailored carry-case and is available now for £275. ®
COMMENTS
It's a clothing brand.
I'd be as likely to buy Dell branded loafers.
A "brand" and cheaper than an iPad?
...finally someone sees a gap in the tablet market.
Pierre Cardin?
Brilliant, it will be £20 in TK Max in six months time (he says looking at his shiny £12 Pierre Cardin boots)
Love the case
love the case love the price and style and a good price in a word Game On!
@AC - Cheaper than am IPAD isn't actually *that* hard...
Check that spec again, friend - Its 800x480 resolution (NOT 600 lines) - i.e. Only really suited to U.S. Standard TV market only... Not an HD spec at all...
A8 and 512MB RAM - So don't expect any multitasking...
All in all, probably not that great a buy, even at the £275 / $400 price tag...