36
Apple eyes phallic iPhone, iPod charger
Wrap your 'buds around this electro-stiffy
Apple has filed a patent application that describes a kludgey inductive battery-charging system, then adds – almost as an afterthought – a short description of a second, acoustically driven charger.
Aside from electric toothbrushes, inductive charging is perhaps best known through the good services of the HP (née Palm) Pre's TouchStone charger, and is also available for the iPhone though third-party devices. Simply put, inductive charging involves electromagnetically inducing a current in a coil, with that current then used to charge a battery, with no direct – conductive – electrical connection required.
In Apple's patent filing – entitled, straighforwardly enough, "Using an audio cable as an inductive charging coil" – the inducing device is a rather large ferromagnetic core that's electromagnetically excited by a coil connected to AC current from a standard wall plug. Around that vertical core, a user would wrap their device's earbud cords to form a receiving coil.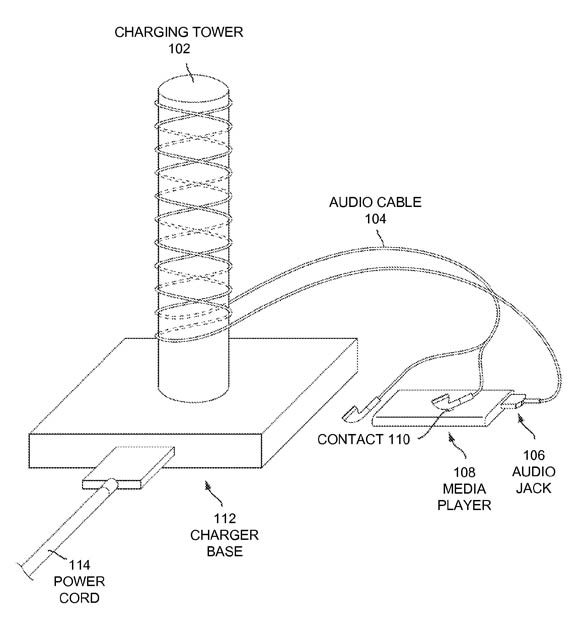 If #108 is an iPod touch, that's one hefty charging pole
Apple explains its brainstorm to use earbud cords as the inductive charger's receiving coil by saying that doing so saves space in the electronic device being charged, "or alternatively incorporating the larger receiving coil into a bulky attachment to the portable electronic device."
In Apple's vision, the charging circuit could be completed by having a contact on one of the earbuds hook up with another contact on the body of the device being charged. Another possibility would be to have the entire body of the device be a contact, so that you could place the earbud anywhere on it.
Alternatively, the mesh covering protecting the earbud driver could be conductive, so that no external contact on the earbud would be needed – you'd simply need to place the earbud mesh-down onto the device being charged. The beauty part of this idea, the filing contends, is that "This type of electrical contact (through the earphone mesh) can also be used to receive current for a conventional non-inductive charging system."
The filing extends this conductive-mesh concept further, envisioning a music player in which all the tune-producing electronics are in the earbuds themeselves. To charge this device inductively, you'd wrap the cable around that big ol' charging tower, then connect the two earbuds together to complete the charging circuit.

Obama-sized ears might be required for this media player
"Note that using metal mesh screens ... as electrical contacts saves space because no additional connectors or contacts need to be provided," the filing helpfully reminds us.
Finally, as the 13-page patent filing comes to a close, it makes brief mention of "an alternative charging system". This alternative dispenses with the earbuds' audio cable entirely.
Instead, this "embodiment" – in patentese – envisions an acoustic charger inside of which is housed a speaker driver, much like the one in an earbud. An earbud attached using its audio cord to the device to be charged is then placed into a suitable port in the acoustic charger. "This recess can be lined with a rubber gasket to achieve a tighter fit," the filing suggests.
The driver inside the acoustic charger then emits a tone, to which the driver in the earbud responds, sympathetically. The resulting movement of the earbud's driver induces a current in that driver's coil, which is then used to recharge the battery of the device to which it is connected.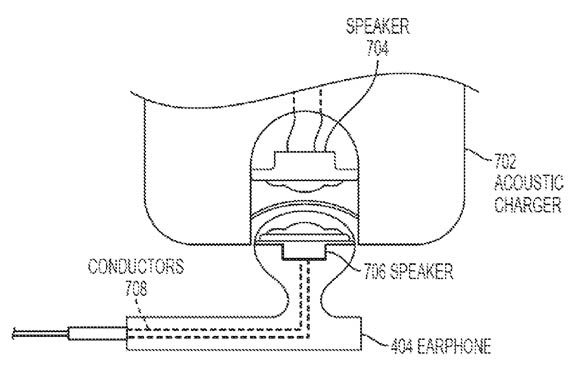 Skip the charging pole entirely, and merely play your earbuds an electrifying tune
"Note that the vibrations can be generated in a non-audible frequency range (less than 20 Hz or greater than 20K Hz) to prevent users from hearing the acoustic charging signal," the filing says, answering the question that we're sure was on your worried mind.
Presumably, the acoustic charger could be constructed in such a way as to allow both earbuds to be placed in it, thus doubling the amount of current induced. That said, it seems hard to imagine a significant amount of charging current being induced in this way.
And, for that matter, it seems equally hard to imagine that phallic charging towers will soon be erected on iPhone or iPod users' desks any time soon. ®
Sponsored: Fast data protection ROI?