Cabinet decisions
It doesn't use its internet connection to fetch CD artist and track names through the Gracenote database or an equivalent, which is a shame, because net-connected gizmos have been doing this for ages. Pure says it's something that might be enabled in the future.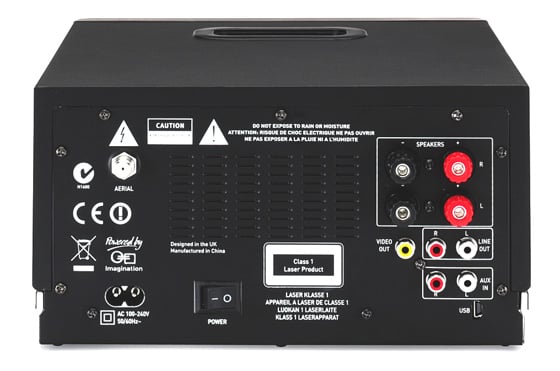 Built-in Wi-Fi: an Ethernet adapter will cost you extra though
Sirocco is the name of a hot wind from the Sahara, so does its performance live up to this breezy name? The supplied speakers' build and sound quality isn't up to pricier but otherwise comparable packages, such as the warm sounding (but not net-connected) Onkyo CS-545UK, however, it's respectable enough for a mid-priced compact.
Staralfur by Sigur Rós on CD balances the soaring strings, piano and moody vocals effectively and the system does justice to the epic Redwings by Guillemots. A streamed MP3 of Paint it Black by The Rolling Stones doesn't sound too off colour, however, a piano concerto by Haydn sounded woolly. I swapped the speakers to a similarly sized KEF pair and the results were much more defined, so it's worth getting the main unit on its own and adding your own choice of speakers.
Using Class D digital amplifiers accounts for the smaller size of this model compared to its predecessor and decent power efficiency. It also has a generous range of sockets, including an F-type terminal that takes a rooftop FM/DAB antenna connection, in case reception needs a boost, though it worked well in my test with the supplied wire aerial. Likewise if you prefer a wired net connection, there's an optional Ethernet adapter, which will cost about £25.
Unfortunately, it doesn't dock with earlier (largely pre-2007) iPods that aren't capable of outputting digital audio. The only option with these and other MP3 players is the front line-in, but it won't charge or remotely control those gadgets this way.
A special feature of Pure's internet radios is Flow Songs, which employs Shazam music tagging so you can identify and, if you wish, buy songs through the radio. It costs £2.99 a year for the Shazam facility, though new users get a 90-day trial.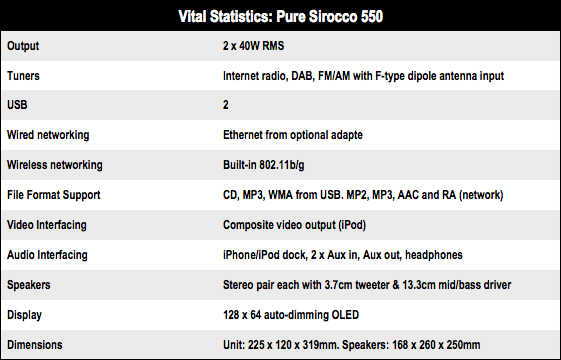 COMMENTS
Double meh.
I can't really see any excuse for not offering a wide (and even user-expandable) range of codec support for anything above the most basic unit. If the speakers aren't up to much either then this is essentially just a tidy little wireless gateway to your music collection and you ought to be able to store that in whatever format tickles your aural fancy.
And a line-in socket on the front of little units like this offends me to the depths of my soul. I have no idea why. What's wrong with putting it on the back? If you're going to be plugging a variety of things in and out all the time then leave a cable plugged in.
Is it just me?
It's just me, isn't it?
Class D is NOT 'digital'
... it goes, Class A, AB, B, C, D depending on conduction angle. Class D is not and will never be and can never be in any way at all 'digital'
Duh.
DMX
Thankfully our second DMX-50 (first one ate a CD, only regurgitated at factory) is still going strong, but the firmware is pretty shonky really. Things like the mp3 playback were clearly afterthoughts, and stability is not its forte, especially with the most recent firmware (ironically). Needless to say, on questioning the chance of bug fixes, the unit turned out to be classic abandonware. Courteous staff at Pure once you get past the boilerplate "Your unit is faulty and will need to be returned" front-line response, but ultimately supporting a product their heart clearly isn't in.
wouldn't buy PURE again
Another DMX-50 owner with a dead CD player here, now using a 1989 vintage Sony player via AUX 1 on the PURE. Oh, mine loses its memory now and again, so I have to reflash the firmware. Seems like British Leyland's modus operandi; good concept, poor execution. Amazon reviews show other PURE products with the CD issue so I certainly wouldn't buy another.
Yes you could get the same functionality with netbook plus other bits but it's a lot clunkier and not everyone wants their living room to look like PCWorld.
re: USB DAB radio
http://www.novatech.co.uk/novatech/prods/components/tvtunercards/compro/u680f.html