Pure Sirocco 550 music combo
Hi-fi with Wi-Fi
Review Pure has pumped out tabletop digital radios and pocket portables for yonks, but largely avoided micro hi-fi. The notable execptions being its DMX and Legato products a few years ago, the inexpensive DAB-equipped Sirocco 150 in 2009, and this new 550 model.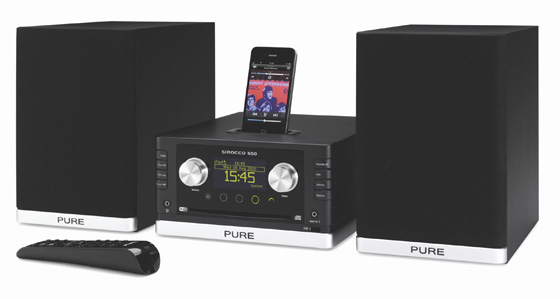 Beat combo: Pure's Sirocco 550
Compared to its forerunner, the 550 has a smaller main unit but beefier amplification, an integrated iPod/iPhone dock and, notably, wireless internet. With this you can access more than 18,000 internet radio stations, podcasts, on-demand programmes (including BBC catch-up), an ambient noises library, audio files from shared devices on your network and any songs you've bought using Pure's cloud-based Lounge service.
Given that music on discs is still popular, it also handles CDs – though a slot-loading drive – as well as digital formats from flash memory sticks (not hard disk drives) attached to the front USB port. The only digital files it loads this way are MP3 and WMA. Docking an iPod provides more choices, such as AAC, Apple Lossless, AIFF, WAV and Audible audiobooks.
For the UPnP-based network media player, Pure provides a free copy of the Twonky media server but you are not obliged to use this if you have a favourite alternative.
I was able to stream MP2, MP3 and AAC music with the media player – including iTunes downloads – but obviously not older DRM-protected iTunes tracks or any of the aforementioned uncompressed or lossless variations, nor the likes of FLAC.

If you don't get on with the touch sensitive controls, there's aleways the remote
The Sirocco is controlled through front panel dials, touch sensitive soft keys and standard buttons for quick access to source inputs. Navigating within USB or networked storage took some getting used to, even though I'm familiar with other Flow radios. To get out of a subfolder or playlist you have to scroll to the tracklisting then press Back to access the library. Pressing Back from within a song jumps all the way to the source list (for changing to CD, radio, etc).
COMMENTS
Double meh.
I can't really see any excuse for not offering a wide (and even user-expandable) range of codec support for anything above the most basic unit. If the speakers aren't up to much either then this is essentially just a tidy little wireless gateway to your music collection and you ought to be able to store that in whatever format tickles your aural fancy.
And a line-in socket on the front of little units like this offends me to the depths of my soul. I have no idea why. What's wrong with putting it on the back? If you're going to be plugging a variety of things in and out all the time then leave a cable plugged in.
Is it just me?
It's just me, isn't it?
Class D is NOT 'digital'
... it goes, Class A, AB, B, C, D depending on conduction angle. Class D is not and will never be and can never be in any way at all 'digital'
Duh.
DMX
Thankfully our second DMX-50 (first one ate a CD, only regurgitated at factory) is still going strong, but the firmware is pretty shonky really. Things like the mp3 playback were clearly afterthoughts, and stability is not its forte, especially with the most recent firmware (ironically). Needless to say, on questioning the chance of bug fixes, the unit turned out to be classic abandonware. Courteous staff at Pure once you get past the boilerplate "Your unit is faulty and will need to be returned" front-line response, but ultimately supporting a product their heart clearly isn't in.
wouldn't buy PURE again
Another DMX-50 owner with a dead CD player here, now using a 1989 vintage Sony player via AUX 1 on the PURE. Oh, mine loses its memory now and again, so I have to reflash the firmware. Seems like British Leyland's modus operandi; good concept, poor execution. Amazon reviews show other PURE products with the CD issue so I certainly wouldn't buy another.
Yes you could get the same functionality with netbook plus other bits but it's a lot clunkier and not everyone wants their living room to look like PCWorld.
re: USB DAB radio
http://www.novatech.co.uk/novatech/prods/components/tvtunercards/compro/u680f.html