Reg readers ponder LOHAN's substantial globes
One balloon or three for ballocket spaceplane mission?
Our Low Orbit Helium Assisted Navigator (LOHAN) project is beginning to work up a good head of steam, as we begin to consider the practicalities of launching a rocket-powered spaceplane from under a whopping helium balloon at a not inconsiderable altitude.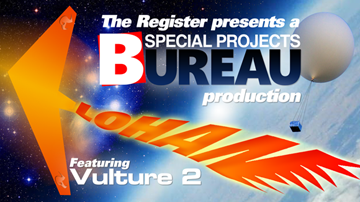 Thanks to all of you who've chipped in ideas, and since our last update, we've been mulling your suggestions as to how to tackle the balloon bit of our ballocket enterprise.
The options can be summarised as follows: Single balloon; single doughnut balloon; or multiple balloons.
The single balloon configuration has the advantages of simplicity and ease of handling. Any of you who've ever launched one of these meteorological monsters will know they can be a bit of a bugger in even the merest hint of wind.
The multiple balloon option doesn't really offer any advantages, apart from greater lift. You won't necessarily get any higher with, say, three balloons tied together, and you've got the problem of controlling the beasts on the ground.
A couple of readers suggested this three-balloon set-up, with the Vulture 2 aircraft launching vertically through the "gap" in the middle. We're not convinced there would be any gap. The balloons start off big and become enormous at altitude, leading us to suspect they'd be snuggled together like a trio of gargantuan, wobbly Bulgarian airbags.
So, you've got a high risk of the Vulture 2 hitting a balloon, even if you attempt to separate them with some kind of hoop assembly – and then you've got the added risk of that assembly rupturing one of the balloons.
A radical alternative is the torus balloon – a doughnut with the spaceplane blasting through the hole. It's a lovely thought, and if any of you can find one, we're prepared to look into it, or indeed through it.
In the end, though, we reckon it's a case of less is more. Instead of wasting time on a complicated set-up with an increased risk of failure, we should concentrate our efforts on perfecting a launch platform which will work from under a single balloon.
We have no firm idea on the details, except that the Vulture 2 must launch from below the balloon, before the burst, and from a structure which doesn't add any unnecessary weight to the main payload.
To elaborate, we don't think any plan to launch from above the balloon has legs. There's no way we can see of providing a stable platform and not completely destroying the balloon and probably its recovery parachute when the rocket motor fires.
The Vulture 2 should go before the balloon burst because if we try and concoct some method of detecting the balloon's disintegration, we're just going to be adding another layer of systems complexity.
Furthermore, the balloon will shred into strips when it explodes, so you're talking an awful lot of flying latex debris. Taking all that on board, we're convinced a predetermined altitude launch is the way forward here, allowing the balloon's main payload cameras the best chance of capturing the action.
As we've said before, we think an initial launch attitude of 45° is required to avoid hitting the balloon. Here's our Paper Aircraft Released Into Space (PARIS) balloon just before launch, so you can imagine just what the diameter of that was when it went bang at 89,000ft.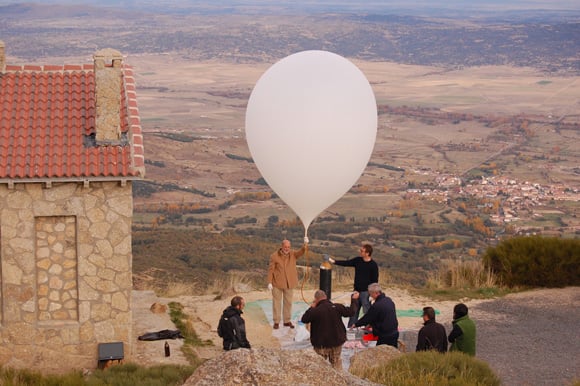 Of course, the Vulture 2 could fly an arc round the balloon to a vertical attitude, so we need to consider further the aircraft's control surfaces, and how they'll work in the rarified upper atmosphere.
For the moment, though, we need to get the Vulture 2 launch platform boxed off before getting stuck fully into the plane's design, since the latter depends to some degree on the former. All suggestions on this are, as ever, most welcome, and we'll see if we can at least get a working plan sorted in the next week or so.
Oh yes, one last thing. What is it with you lot and hydrogen? We're are not, under any circumstances – except possibly the complete exhaustion of the world's supplies of helium – going to touch hydrogen with a long, flameproof stick. Let that be an end to the matter. ®
Sponsored: Minds Mastering Machines - Call for papers now open