Bullfrog Syndicate
Persuadertron = win
Antique Code Show Bullfrog's innovative titles gave me some of my best 1990s gaming memories. Who could forget Populous and Dungeon Keeper? The pre-cyberpunk aesthetic of Syndicate mesmerised me and gave us Agent Smith before anyone had even heard of The Matrix. This game isn't complex but as long as I have a Persuadertron, I am going to do well.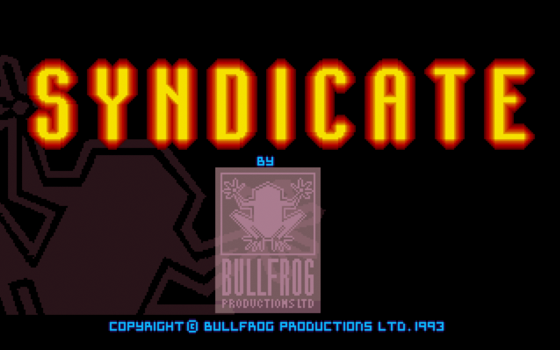 Syndicate: appealing to your inner Dr Evil
Syndicate is set in a dystopian 22nd century. Organised crime has infiltrated all business and politics. Rather than become trapped in a post soviet prison camp grafting for one of the ruling syndicates, I decide to start my own play for power. I shall have a syndicate of my own! All I need is black market funding and military industrial complex technology to feed my lust for power.
I really liked the way this game looked even with its isometric view making for some brain ache it made me come across all Bladerunner with its palette of greys and browns. Ahh and the violence! Bystanders caught in your flamethrower action, all the better to BBQ you sir! It is the attention to detail that makes this game so memorable – civilians will spook and do a runner at the sight of a gun and over-eager cops will shout warnings and fire at me if I don't comply.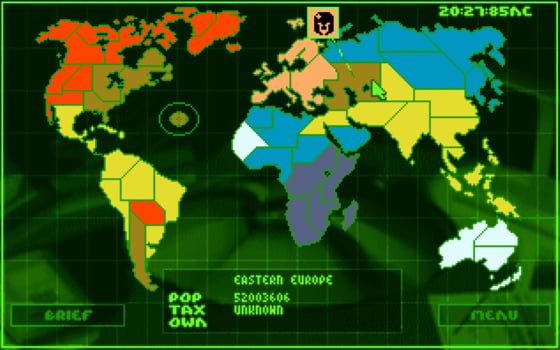 Territory and taxes make up part of the gameplay
I start by choosing a company name and designing a company logo. At the beginning of the game I have a single territory in Europe. I gain territories by succeeding in different missions and then I can set the tax threshold in my territories to bring in the bucks. Yet I have to remember, if I try and get too greedy, then I have to deal with riots and unrest from the increasingly angry populace.
The gameplay revolves around me assembling a lethal gang of cyborgs agents, furnishing them with implants, weapons and some kick-ass gadgets. They are controlled with an effective and simple interface and I can manipulate their Intelligence, Perception and Adrenalin levels according to the mission.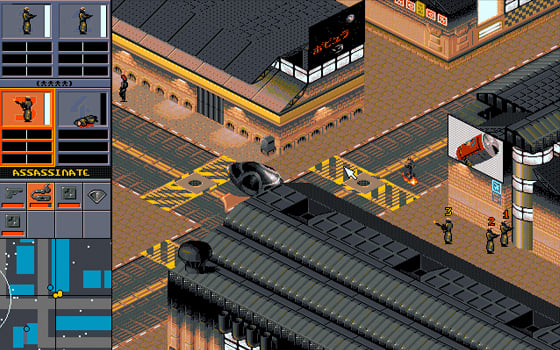 The odd assassination spices thing up a bit too
After they are kitted out, it is mission time. Off they trot into enemy territory to extend my influence. This game is all about power, but take your eye off the money and tech and other Syndicates will be waiting to take over.
A lot of Syndicate revolves around upgrades. Monies should be quickly invested in the research. I am always in favour of new guns, whether it's a mini gun or a laser I am going to need more of them to equip my agents. 
This game is all about missions. But they aren't all just about the killing, I fondly recall assassinating VIPs and killing enemy agents as well as rescuing captured personnel and sneaking around to demolish buildings.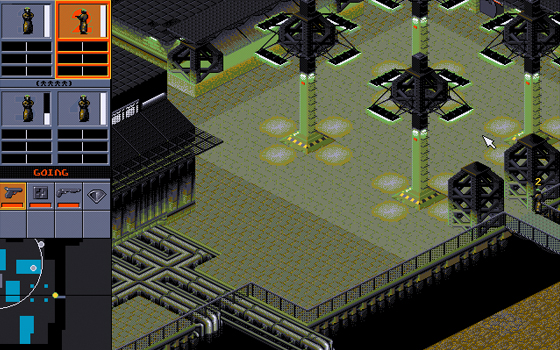 Choose your weapons and keep a Persuadertron handy
One of my best memories of this game is the Persuadertron, if I lose an agent during a mission there is no need to panic. Thanks to this mind control technology I can "persuade" one of the general populace to join my ranks as an agent or just use them as collateral damage. The Persuadertron is one of the witty and just plain evil innovations that make Syndicate a classic.
I win once I have total despotic control over all the territories. Luckily this took me till December 1993 and the release of DOOM. ®
Reg Hardware will be revisiting memorable titles from gaming's illustrious past every two weeks
Developer Bullfrog Productions
Year of release 1993
More Info Syndicate for PC or DOS emulators can be found here. Later editions for other platforms are readily available on Amazon and other outlets.
COMMENTS
Fair enough
You tell us where we can legally buy a brand new copy of Syndicate and we'll buy it. Otherwise, please feel free to enjoy a nice warm mug of STFU.
Thank you
I was hoping you'd review this game. Possibly one of the best games I've ever played. It was so engrossing.
I wonder how many weeks of my life I lost to this and to Fallout...
Top choice.
A brilliant, underappreciated game. Personally I loved using the Persuadertron to build the largest possible massive swarm of cannon fodder.
The only thing missing was the ability to rotate the world by 90 degree increments. I played a demo of the follow up, but the move to 3D killed the feel of the game. A modern day recreation, sticking with isometric but throwing in multiplay would surely be a blast?
Re: Another example Amiga genius
The 'not as good' DOS version was the lead platform for the game (which was written in C, so the only 'difference' was in the actual hardware interfacing - the actual game code was identical on all the computer formats). I believe the console versions were rewritten substantially to fit the controller better, but I could be wrong. The DOS version ran far faster and smoother than the Amiga version, and all at (back then) high resolution - 640-400 iirc. The Amiga version actually only rendered about 190 pixel lines due to the fact the machine wasn't powerful enough to render even 200 lines.
Overall though, a most excellent game that will always bring back good memories - not just of the game, but also of the good times I spent at Bullfrog working with genuinely nice and extremely talented people.
Syndicate runs deep in my gaming DNA
I loved this game so much on my Amiga. Lost a lot of time playing this. Loved every minute of it.
If I'm honest, I'm still looking for that buzz.