IRISnotes Executive 1.0 digital pen
Knows your writes
Executive treatment
The IRISNotes Executive app acts as a document management/text-recognition tool allowing you to organise your documents into binders, and OCR them into text (in 21 languages - or more if for instance count US, GB and Canadian as separate languages). The recognition software can handle printed, capitalised, or normal handwriting styles, and prior to recognition you can also specify specific areas on the page that you want the software to recognise as drawings.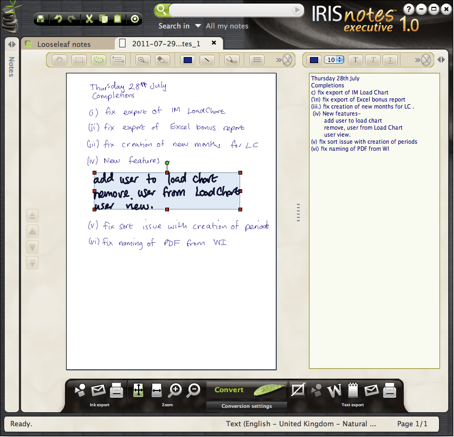 The Irisnotes app offers OCR to convert scrawl to text
It can then render your sketches, à la Newton, into nicely squared-up drawings (although it did have trouble with my version of a datastore symbol). Even after recognition it stores both the handwritten and text version of your documents, which you can view side by side. You can then export your documents as RTF, SVG, or in a raster image format - png, jpeg, bitmap.
Amazingly, it pretty much works as advertised, out of the box. And after several weeks of testing, I'm still using it in anger, and it really does simplify the note-taking and specification capture process of the sort I do in my day job. The pen seems quite robust, and I haven't had to change the small-looking refill unit or watch batteries that power it yet.
A couple of caveats: the unit uses two sensors that need direct line-of-sight to the pen tip, so if you have a tendency to curve your hand to stop the boy at the next desk from cribbing, you'll need to adjust the way you grip the pen. It also features a mouse button, and when the receiver is attached to your machine it can be used as one. On my Mac, this is extremely irritating, so I generally tend to leave the unit connected in order to recharge overnight, rather than deal with a wandering cursor at work.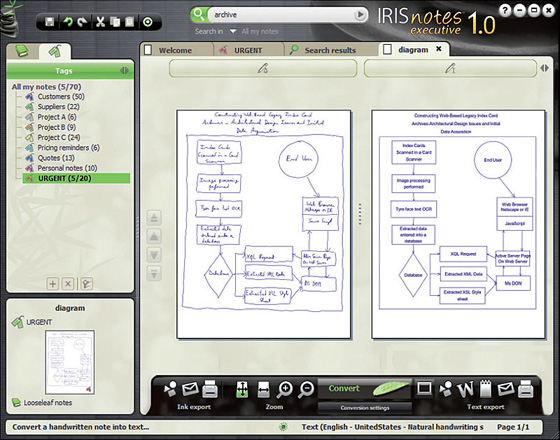 Diagrams can be refined Newton-style
One other source of irritation - the IRISNotes Executive app eschews standard Mac or PC look and feel in favour of its own bamboo jungle look. Perhaps this is an attempt to hide it's cross-platform Java roots, but it would be nice to be able to turn it off.
Verdict
The IRISnotes Executive 1.0 passes the Ronseal test: it's great for saving you from transcribing pages of handwritten notes, but the software interface could use some serious redecoration, and it lacks the audio functionality of the LiveScribe. ®
More Gadget Reviews

Mobee
Magic Charger
Burg 5
watch phone
Contour GOS
Bluetooth
camcorder
Jabra
Stone 2
Livescribe
Echo Smartpen
Sponsored: Minds Mastering Machines - Call for papers now open

IRISnotes Executive 1.0 digital pen
Digitally captures pen movements – without the need for special paper – for transfer to computer and OCR conversion.