Fanboys find way to NFC an iPhone
Anything Android can do...
iPhone 4 users have discovered they can slip a Bank of America NFC card under the covers of an iPhone, sharing the NFC goodness previously restricted to the competition.
iPhones don't support Near Field Communications, at least not yet, while the latest handsets running Symbian, Android, and even Bada have the short-range radio technology built in. So some Apple users – using instructions from Unplggd – are taking the shortfall into their own hands by stuffing a credit card inside an iPhone 4 case.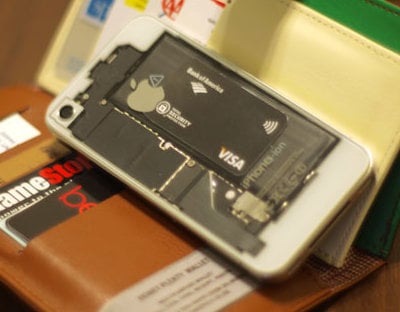 Spot the credit card, image from Unplggd
There's little that annoys an Apple fan more than a competing product with an obvious, demonstrable, feature their beloved baby lacks. Adobe Flash is the usual example but Steve Jobs provides scripted responses to such attacks. That leaves Apple deriders talking in vague terms about iPhone fans "being locked in" and "subservient to Cupertino", which is weak at best.
NFC, on the other hand, can be easily demonstrated, looks cool at a glance, and is something an iPhone just can't do: unless it's had a credit card stuffed into the case.
A full-sized card won't fit, but fortunately Bank of America (and some others) provide reduced-size cards which can be slipped between the battery and the casing. Cutting down an NFC-enabled card is tough, as the induction coil (which picks up the power for the radio) is almost as large as the card itself, but Unplggd reports that the reduced-size cards work well and can transmit through the iPhone's back casing.
The phone can't interact with the card, obviously, but if the account supports online banking (as it almost certainly will) then there's no need for direct communication, as the balance and transaction history can be accessed online.
What's more interesting is that if fans are prepared to go this far to get limited NFC functionality, then it's obviously something that's needed in the handset. Apple users do not like everyone else having a feature they haven't got, which can't have passed Apple by and lends weight to the idea that such a bodge will be unnecessary when the next iPhone comes around. ®
Sponsored: Minds Mastering Machines - Call for papers now open