Cambridge Audio Azur 751BD 3D Blu-ray player
Anglophile audiophile attraction
Self serving
While there are design and operational similarities to the Oppo BDP-95EU, the two players differ significantly beneath the lid, with different DACs and multimedia file support. It's gratifying to report that unlike the Oppo, the Azur 751BD isn't left floundering when it comes to MP3 playback across a network. For those with fast-filling music servers, this Azur is clearly the better buy.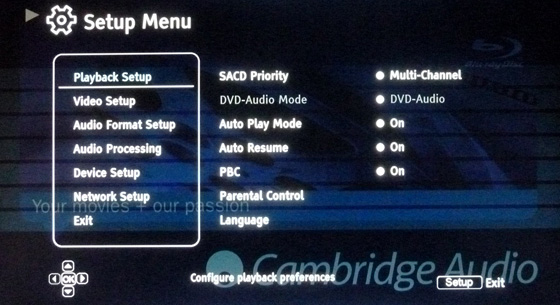 Set-up options
Curiously, Cambridge Audio's manual specifically states: 'The 751BD can play WMA and MP3 files only. It cannot play AAC files.' Such self-effacing modesty is misleading. MP3, FLAC, WMA, WAV, AAC and even APE files all play out. When there's album art available, it also displayed that, and correctly read artist and album metadata.
Across my network, the player greeted a wide assortment of video files with similar cheerful compliance: AVI, MOV, MPG4 and TS files ran. The deck unspooled most of my H.264 wrapped content, but inexplicably not all. This broad compatibility extends to USB playback. Two drives were connected, an 8GB stick and a 160GB Iomega external HDD. The player browsed the latter quickly and streamed music from both without issue.
The player's HD picture performance is predictably good, both with regular 2D discs and frame sequential 3D: fabulous fine detail and smooth, rich colours are the order of the day. But then I'd expect nothing less. The good news (for big disc library owners) is that DVD playback also impresses. The unit's Marvell QDEO deinterlacer does a fine job upscaling SD content.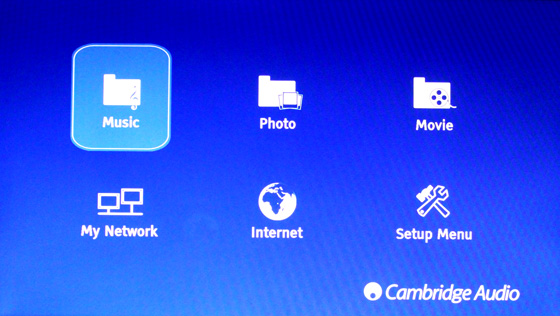 Home menu
The player is also a wonderful music source. Be it the more-ish MOR of Emi Fujita (Camomile Best Audio, SACD Japanese import) or the elegance of Marianne Thorsen and Trondheim Solistene's Mozart Violin Concertos, the 751BD consistently delivers exquisite vocal intelligibility and spacious imaging. 

Wolfson WM8740 DACs deliver to all the analogue audio outputs and work to output a lush and exciting sound. This is a Blu-ray player that audiophiles will really enjoy.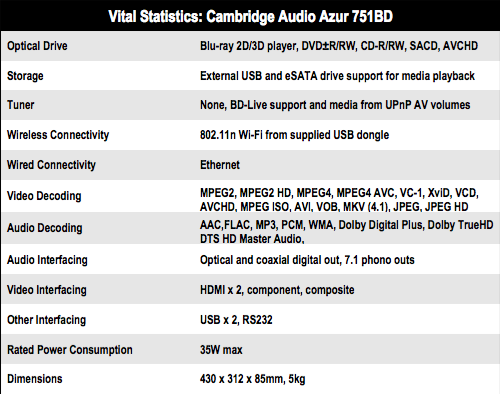 Sponsored: Minds Mastering Machines - Call for papers now open