Tweak to taste
The Azur 751BD has no shortage of user tweaks either. A pure audio mode is ostensibly provided to elevate sound quality, but it has a rather more obvious, practical benefit. You can disable the display to prevent screen-burn on plasmas when playing music.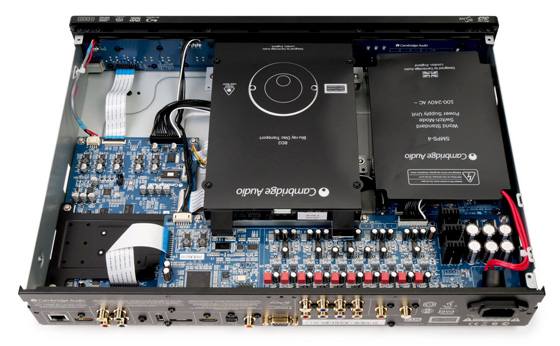 At 5kg, the Azur 751BD amounts to double the weight of mainstream alternatives
There are also extensive video picture parameter control, although I wouldn't venture much beyond some very minor block noise reduction. It's worth remembering that the QDEO processor only feeds the prime HDMI output. Disc-loading speeds are good but not Usain Bolt fast. Lou Reed's Berlin from Artificial Eye went from tray loading to menu screen in 31 seconds; the remastered and Java-heavy Goldfinger served up the 007 logo in 62 seconds.
Verdict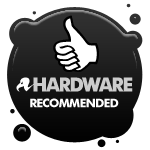 Overall, there's no question that the Cambridge Audio Azur 751BD is a top-flight entertainer with a price to match. It's on-line connectivity will pull in BD-Live content when required and play nice with media either on a drive or a Nas server. Some may bemoan its lack of a content portal with apps aplenty, but that's not the thinking here. Instead, we have a high-fidelity component with a firm handle on the new network age of home theatre. ®
More AV Gear Reviews...

Philips
BDP7600
Samsung
BD-D8900
Virgin Media TV
TiVo
Arcam
FMJ BDP100
Panasonic
DMR-BWT700

Cambridge Audio Azur 751BD 3D Blu-ray player
Brit Blu-ray player with a robust build and performance that will appeal to movie and music lovers alike.
COMMENTS
ah, but....
...it's the gold-plated DIRECTIONAL audio phono cables that really make the difference between audiophile hi-fi and ordinary hi-fi.
"A good sign as rigidity usually begets fidelity."
I bet you can "hear the difference" when you use gold plated phono leads too.
On a realistic note, £800 for a blu-ray player? Sorry El Reg but we aren't all cashing in our Apple or facebook shares this week.
@JDX
And it might disappoint you to learn that there are quite a lot of rich people who are also savvy enough to understand that precisely 87.64% of audiophilia is medicine show homeopathic hogwash. There's no obligation to waste money on unnecessary audiobling just because one's coin is weighing heavy in the purse. And there's nothing wrong with scoffing at unnecessary audiobling whether one can afford it or not.
(Of course, you probably won't notice that 0.64% unless you are using palladium-coated wifis to connect to the interweb.)
Found it - it does do DVD-A
So it does both HD music formats
As to speaker cable I can hear the differences between cheap and decent, but my decent cable was not that expensive, just decent quality.
£800 seems a fair price to me - remember the first DVD players were £500 and up.
This is full of good quality stuff.
Re: Golden ears
There's no easy answer to that one.
I have a completely seperate aging Arcam / KEF Coda HiFi system to my Cambridge Audio / KEF 2005 surround system for a variety of reasons. The most important being that the only surround system I have heard in demo that sounded as good as the seperate HiFi setup when playing Vinyl or CD cost considerably north of 6 grand.....(!) I can replace 'em both with better kit for less than that.
Of course I am told that having idle speakers in the same room as those doing the work is a terrible thing, but take 'em all out and I can't hear the difference, which is what's important. It's like the old speaker cable debate. I can hear the difference between "bog" 530 strand copper and my old QED Qudos stuff, but I cannot hear any difference between that and something costing 5 or 6 times as much per metre.
So at the end of the day it's all about whether you can hear a difference. In that case I suspect that the only important factor in this case is the acreage of glass on the front acting as an unwanted reflector. However, outside of a demo room's careful acoustic construction, you'd be pushed to spot it IMHO, as that cabinet, nice wood floor or badly placed armchair in your living room will be far more of an issue. I doubt whether it's switched on or not would make an audible difference, despite what the types who dwell on the number of carats in the gold plating of their digital interconnects may tell you.