Self serving
While there are design and operational similarities to the Oppo BDP-95EU, the two players differ significantly beneath the lid, with different DACs and multimedia file support. It's gratifying to report that unlike the Oppo, the Azur 751BD isn't left floundering when it comes to MP3 playback across a network. For those with fast-filling music servers, this Azur is clearly the better buy.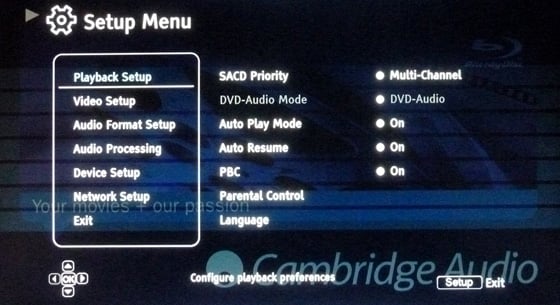 Set-up options
Curiously, Cambridge Audio's manual specifically states: 'The 751BD can play WMA and MP3 files only. It cannot play AAC files.' Such self-effacing modesty is misleading. MP3, FLAC, WMA, WAV, AAC and even APE files all play out. When there's album art available, it also displayed that, and correctly read artist and album metadata.
Across my network, the player greeted a wide assortment of video files with similar cheerful compliance: AVI, MOV, MPG4 and TS files ran. The deck unspooled most of my H.264 wrapped content, but inexplicably not all. This broad compatibility extends to USB playback. Two drives were connected, an 8GB stick and a 160GB Iomega external HDD. The player browsed the latter quickly and streamed music from both without issue.
The player's HD picture performance is predictably good, both with regular 2D discs and frame sequential 3D: fabulous fine detail and smooth, rich colours are the order of the day. But then I'd expect nothing less. The good news (for big disc library owners) is that DVD playback also impresses. The unit's Marvell QDEO deinterlacer does a fine job upscaling SD content.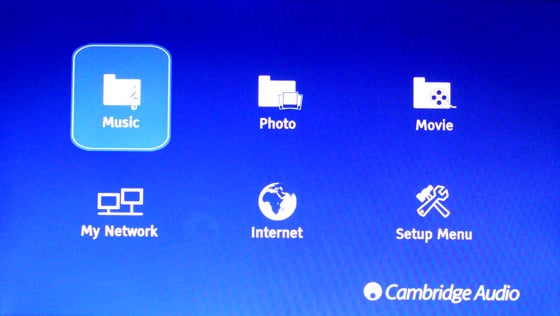 Home menu
The player is also a wonderful music source. Be it the more-ish MOR of Emi Fujita (Camomile Best Audio, SACD Japanese import) or the elegance of Marianne Thorsen and Trondheim Solistene's Mozart Violin Concertos, the 751BD consistently delivers exquisite vocal intelligibility and spacious imaging. 

Wolfson WM8740 DACs deliver to all the analogue audio outputs and work to output a lush and exciting sound. This is a Blu-ray player that audiophiles will really enjoy.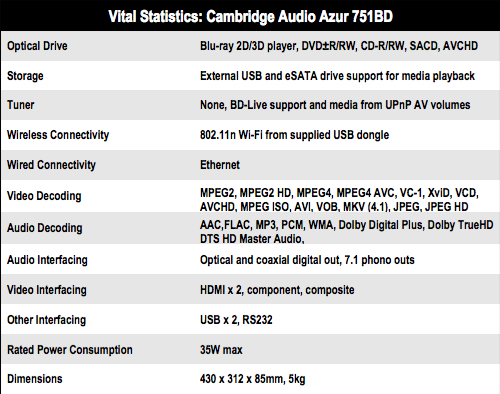 COMMENTS
ah, but....
...it's the gold-plated DIRECTIONAL audio phono cables that really make the difference between audiophile hi-fi and ordinary hi-fi.
"A good sign as rigidity usually begets fidelity."
I bet you can "hear the difference" when you use gold plated phono leads too.
On a realistic note, £800 for a blu-ray player? Sorry El Reg but we aren't all cashing in our Apple or facebook shares this week.
@JDX
And it might disappoint you to learn that there are quite a lot of rich people who are also savvy enough to understand that precisely 87.64% of audiophilia is medicine show homeopathic hogwash. There's no obligation to waste money on unnecessary audiobling just because one's coin is weighing heavy in the purse. And there's nothing wrong with scoffing at unnecessary audiobling whether one can afford it or not.
(Of course, you probably won't notice that 0.64% unless you are using palladium-coated wifis to connect to the interweb.)
Found it - it does do DVD-A
So it does both HD music formats
As to speaker cable I can hear the differences between cheap and decent, but my decent cable was not that expensive, just decent quality.
£800 seems a fair price to me - remember the first DVD players were £500 and up.
This is full of good quality stuff.
Re: Golden ears
There's no easy answer to that one.
I have a completely seperate aging Arcam / KEF Coda HiFi system to my Cambridge Audio / KEF 2005 surround system for a variety of reasons. The most important being that the only surround system I have heard in demo that sounded as good as the seperate HiFi setup when playing Vinyl or CD cost considerably north of 6 grand.....(!) I can replace 'em both with better kit for less than that.
Of course I am told that having idle speakers in the same room as those doing the work is a terrible thing, but take 'em all out and I can't hear the difference, which is what's important. It's like the old speaker cable debate. I can hear the difference between "bog" 530 strand copper and my old QED Qudos stuff, but I cannot hear any difference between that and something costing 5 or 6 times as much per metre.
So at the end of the day it's all about whether you can hear a difference. In that case I suspect that the only important factor in this case is the acreage of glass on the front acting as an unwanted reflector. However, outside of a demo room's careful acoustic construction, you'd be pushed to spot it IMHO, as that cabinet, nice wood floor or badly placed armchair in your living room will be far more of an issue. I doubt whether it's switched on or not would make an audible difference, despite what the types who dwell on the number of carats in the gold plating of their digital interconnects may tell you.