Canon EOS 600D 18Mp DSLR
Choices, choices...
Focus foibles
The list of features continues with 1080p HD video. Canon must be feeling the pressure as Nikon gradually rolls out H.264 video across its DSLRs, but the 600D holds its own nonetheless. You can shoot at 25 or 24fps in 1080p mode, or 50fps in 720p mode, with a 'legacy' 640 x 480 mode for masochists.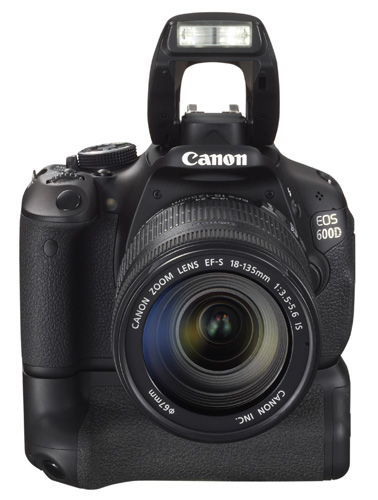 The BG-E8 battery pack option is an essential extra for the long haul
Video quality is superb, with the only disappointment that Canon still hasn't made progress when it comes to autofocus, which, although supported, is all but useless. You either need to choose contrast detection, which doesn't interrupt shooting but which takes ages and lots of hunting, or switching to phase-detection, is much faster but introduces a jarring, noisy break as the camera resets the shutter and mirror. If you want good results you'll need to get to grips with your lens's focus ring and do things manually.
As with any camcorder the ESO 600D picks up body noise like no-one's business: even with an ultrasonic motor (USM) lens attached you'll be able to hear it whirring away. The plastic body also gathers handling noise if you're not careful, so a bit of practice is required if you want to shoot clips without resorting to an external microphone. The EOS 600D will take a stereo mic in its 3.5mm jack socket.
A word of warning goes to travellers expecting to spend days away from a charger – the 3in display is used to show shooting information, so it spends a lot of time draining power from the small 1120mAh battery. If you shoot only stills, Canon quotes a battery life of around 400 shots, but once you start recording video you can expect to exhaust the battery quickly – under two days with even moderate video use. Those with an eye on multimedia should invest in the BG-E8 battery grip (£100) and a few spare batteries.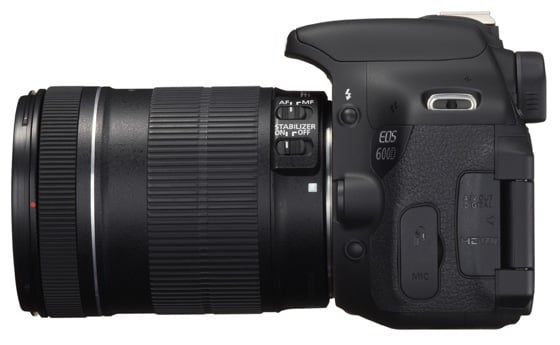 With 18-135mm zoom: alas, the kit lenses don't do the body justice
With the 600D and Nikon D5100 at almost exactly the same price at the time of writing, recommending one over the other is next to impossible. Both take incredibly good images, and both are backed up with a spectacularly wide range of lenses. Both shoot 1080p video, with the D5100 edging out the EOS 600D for usability and the Canon countering the Nikon for features with its excellent wireless flash system.
Verdict
If you've been using Canon kit for a few years and are looking to replace an entry-level DSLR with something more up-to-date, the EOS 600D is an excellent halfway house between a low-spec DSLR and a semi-professional model such as the EOS 60D or EOS 7D. If you haven't chosen a platform yet, the best advice is to pick both cameras up and see which you prefer: neither will disappoint. ®
Dave Stevenson is the author of A Pocket Guide to Digital Photography.
More Camera Reviews…

Ten…
Pocket compacts
Leica
X1
Hasselblad
H4D-40
Stainless steel
Fujifilm
Finepix X100
Nikon
D7000
Sponsored: Minds Mastering Machines - Call for papers now open

Canon EOS 600D 18Mp DSLR
Mid-range DSLR with all the trimmings.
Price:
£769 (with 18-55mm kit lens) , £949 (with 18-135mm kit lens), £679 (body only) RRP