Nokia's cheapies strategy bombs
Shanghai surprise
For a decade after 1998, when it first grabbed the top spot, Nokia was a bellwether of the mobile handset business. So much so, that small modulations in Nokia market share caused earthquake scale upheavals across the industry. That's because Nokia was credited with understanding (and blanketing) the world with phones so comprehensively that a stumble may perhaps indicate the market signaling something important.
This was certainly the case in 2004, after Nokia's market share fell 6 per cent (from 34.6 per cent to 28.4 per cent).
Nokia acknowledged it had neglected its mid-market feature phones (Sony Ericsson's were much nicer) and placed too much emphasis on smartphones: yet the infrastructure that made a high-end phone sing wasn't really in place. In 2004, hardly anyone was on 3G. It responded by temporarily abandoning its policy of rationing out the goodies across its product line, and trying to make one phone really attractive. With the 6230 and 6230i, it succeeded – these are still a fairly common sight today.
Nobody thinks that now.
Nokia's risky strategy on cheapies – and we were the first to report those risks four years ago, here – has failed. Competition from emerging manufacturers is far stronger than the company anticipated. As Elop himself wrote in the most neglected part of his "Burning Platforms" intranet post:
At the lower-end price range, Chinese OEMs are cranking out a device much faster than, as one Nokia employee said only partially in jest, "the time that it takes us to polish a PowerPoint presentation"... They are fast, they are cheap, and they are challenging us.
IDC reports that Nokia has lost a fifth of its market share in a year, falling from 33.8 per cent to 24.2 per cent. It is still No 1 overall, the analyst company reckons, but this is a pyrrhic victory, since others are taking the profits. Motorola is shipping lots of well-received Android handsets, but making a loss on them. Apple increased its distribution, and its market share doubled to 5.6 per cent. Not very much – but it meant that Cupertino is now soaking up two-thirds of all the profits being made in mobile handsets.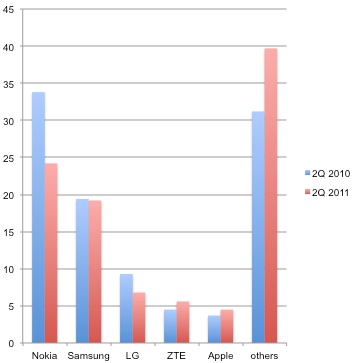 The Crash of 2011
Y-axis: percentage market share (Source:IDC)
In a fit of the corporate vanity that occasionally envelops market leaders, Nokia has at times positioned itself more as an NGO than a commercial operation. It turns up in an emerging market, and does the locals a favour: so very Victorian. But Nokia is not an NGO, it's answerable to its shareholders.
It may be time to cast off the cheapies altogether, and focus on areas where potentially profitable smartphones will prosper. That's a blow to its pride, but a commercial necessity. Nokia did get rid of its cables and rubber boots businesses. ®
Sponsored: Minds Mastering Machines - Call for papers now open