Exogear Exomount universal gadget mount
Grips, sticks and stays stuck
Accessory of the Week I've been after an affordable and reliable way to stick an HTC Desire HD to a windscreen or desk for some time. Yes, there are plenty of options out there, but they have all been too expensive - HTC's own car mount will set you back £50 - too fragile, too wobbly or just too cheap and nasty.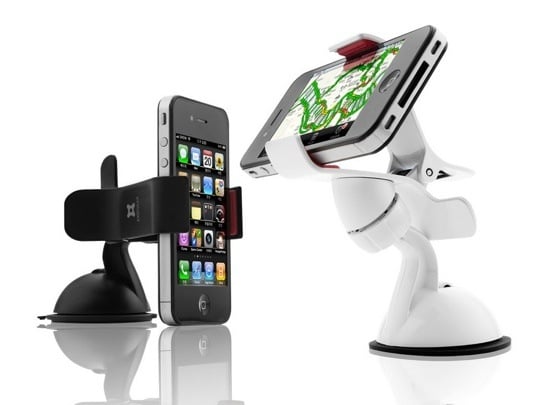 The Exomount clasps your gadget securely
Exogear's rather impressive Exomount consists of a bulldog clip-like gripper at one end and a normal-looking suction mount at the other. The clip part of the assembly is extremely easy to fit devices into - just press the back sections together, insert device and let go.
The padded jaws clasped my phone to the Exomount's bosom firmly and securely but without obscuring any of the side buttons. Exogear says the mount will hold anything with up to a 5in screen which seems a reasonable claim.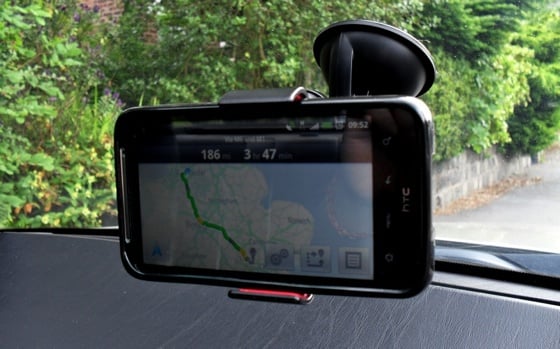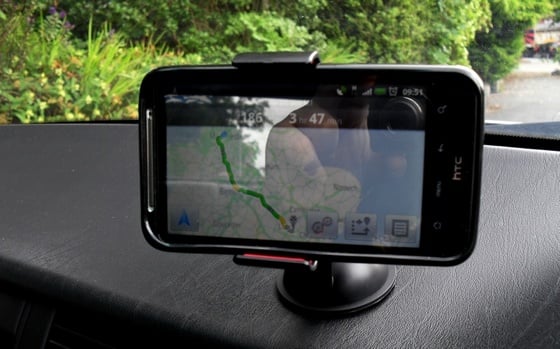 In your car, you can attach it to the windscreen as easily as the dash
If you want to mount something bigger like an iPad or an HTC Flyer just stick the tablet to the Exomount with the sucker cup and use the clip to attach it to an chair arm or such. No use in a car, granted, but handy about the house.
Once in situ, the ball-and-socket assembly lets you rotate between landscape and portrait without re-mounting the whole thing. The socket can be a little creaky but I can't see anything breaking unless subjected to deliberate abuse.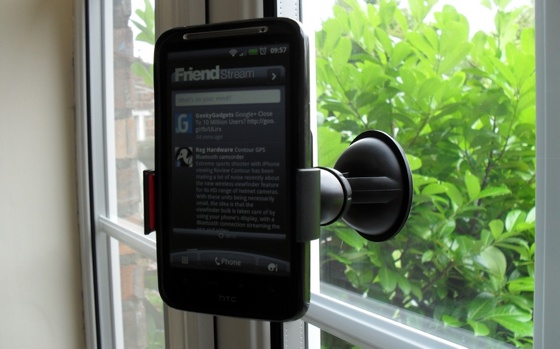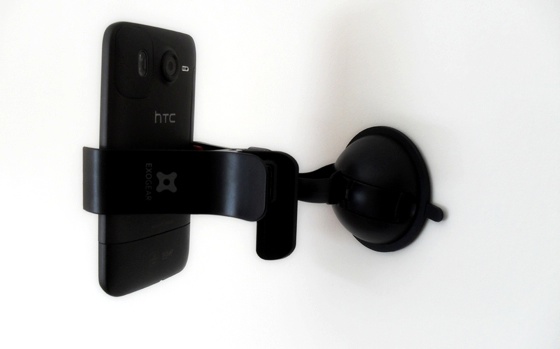 Fix it to the window, fix it to the wall
The pad at the bottom of the suction cup has a sticky coating so it holds fast to just about anything. I've stuck mine to plaster walls, desk tops, wooden doors and the vinyl dash of a Mercedes E240 to which nothing has ever stuck before.
Exogear says the sucker doesn't leave marks on windscreens. To be honest, it does - but only the same faint rings that all satnav mounts leave behind.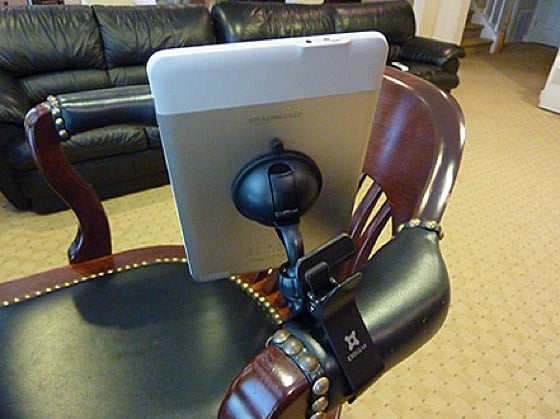 Flip the mount round, and you can attach all sorts of other devices too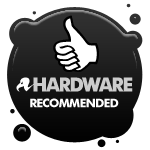 Got a big smartphone? Want to stick it to your desk, wall, dog or windshield? Buy this. ®
Reg Hardware chooses its Accessory of the Week every Friday. Got one in mind you want us to consider? Please let us know
More Accessory Reviews

Kingston
DataTraveler
Ultimate G2
Jabra
Stone 2
M-Edge
e-Luminator
Touch
Amazon Kindle
Lighted Leather
Cover
Sony
Ericsson
LiveView
COMMENTS
From the author
@ FanMan
I've been using the review unit as a screen mount for three weeks now in several cars - including a trip down the M6 in a Ford Transit - and there has been no sign wobble, shake, rattle or indeed roll - it's every bit as solid as any satnav unit I've had on test. Also there is a cuff around the ball/socket joint to tighten it up if needs be.
Alternative Spider
As an alternative, might one recommend the Breffo Spiderpodium as an alternative generic mount
It could work.....
"... to stick it to your desk, wall, dog or ..."
If you clipped it (with a bit of padding) to the scruff of a dogs neck, the dog wouldn't feel any discomfort and different people in a family home could then call the dog to them so they could use the phone (or maybe a tablet) for a short time.
Looks good!
That Spiderpodium thingy looks like just what I need for a universal mount for my Desire. Have a thumb! ;-)
Smart looking mount, but...
Sadly, its one more mount without the ability to attach to a tripod.
As far as mounts go, there are some really smart ones on eBay for $5.
They are flatter (less voluminous than this one too, so your device can be mounted closer to whatever object you're clipping it to)
I still like the design of this one a lot,
But its neither the cheapest working choice, nor is it the best for all applications. Having a sucktion cup as the only option of attachment has turned out impractical for me on a previous holder...
Comments on the build quality would make it easier to decide wether to add it to my collection of holders...