Dell PowerEdgies built like Marilyn Monroe
'Cos some like it hot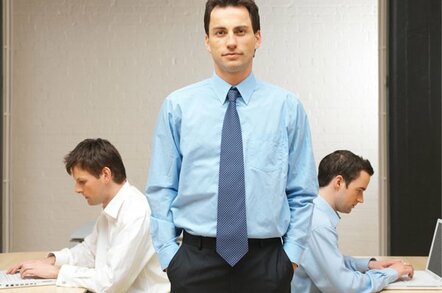 A lot of new hardware features were rolled up into Dell's PowerEdge 11G servers, which came out in 2009 and were enhanced throughout 2010.
But up until now, Dell has not discussed an important feature of the plain vanilla PowerEdge servers that it has kept in its back pocket in reserve as it did further testing: They can run hot for a period of time and not fry themselves.
Many small and medium businesses, who often put servers in the most unlikely of places, already know this, but Dell has done years of design and testing on the components in selected models of the PowerEdge 11G machines so it can not only certify that the machines can run at a substantially higher temperature and humidity levels than are in the spec sheets, but also keep them under the same Dell warranty.
This has some important implications for customers who want to run their data centers a little hotter to save money on cooling and is particularly interesting for those shops who want to use free-air cooling by opening up the walls of their data centers and throwing out their expensive chillers.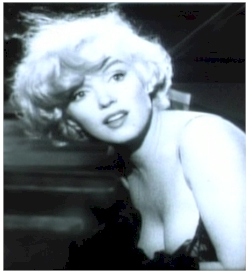 Marilyn Monroe in Some Like It Hot:
Insert "nice rack" joke here
Eric Wilcox, power and cooling product manager for the PowerEdge servers at Dell, tells El Reg that the plain vanilla PowerEdge machines (as distinct from the PowerEdge-C cloud servers that are only sold on a bespoke basis) are rated to handle as much as 35 degrees Celsius (95 degrees Fahrenheit) and an 85 per cent relative humidity level. But several years ago, as it was putting together the PowerEdge 11G designs to go with the "Nehalem" family of Xeon processors from Intel and the Opteron 6100 chips from Advanced Micro Devices, Dell's engineers took a look at the metal, power supply, and fans in the systems and designed them to take higher and lower heat and humidity than this.
Having done the design work, Dell spent the past two and a half years running the machines through all kinds of longevity tests and believes that it can now extend standard warranty coverage to PowerEdge machines that run a little hot.
Does running the PowerEdge gear any hotter or cooler shorten the lifespan of the PowerEdge servers?
"No it does not," declares Wilcox. "There is a slightly, barely measurable difference, but Dell is backing this operation with its warranty and thinks that this is negligible."
The new operational guidelines for PowerEdge servers do not mean that you can just cook the servers in the hot sun or freeze them in the deep cold and they will have the same life as they would being pampered in a data center. Dell's revised warranties for PowerEdge machines allow them to run as high as 40 degrees C (104 degrees F) for as much as 10 per cent of the year, or about 900 hours. And for big heat spikes, you can let them run as hot as 45 degrees C (113 degrees F) for about 1 per cent of the year, or about 90 hours. (The 1 per cent of very hot usage comes out of the 10 per cent of hot usage, not normal usage.)
You can't just throw out the chillers on every Dell PowerEdge server. Thus far, only the two-socket Xeon boxes are certified to run hot. This includes the PowerEdge R610 1U rack server, the PowerEdge R710 2U rack server, and the PowerEdge T610 tower server. Other gear can also run hot, including the PowerVault MD1000 and MD3000 storage arrays, all EqualLogic disk arrays, PowerConnect 7000 and 8000 series switches, and various power distribution units.
Running the servers at higher or lower temperatures doesn't just make them available for use by the military and other organizations, such as media and entertainment companies that put computing gear close to events. The ability to run at higher temperature and humidity levels means that more companies can think about throwing their chillers out and knocking some holes in the data center walls, as Facebook and Yahoo! have famously done, to use outside air cooling year round.
If you have to keep the outside air temperature below 35 degrees C and the dew point temperature is below 26 degrees C, then there are only a few areas of the US where the bulk of the 8,766 hours in a year fall below these thresholds, as you can see below:
Here's what it looks like if you let the temperature have a ceiling of 45 degrees C and keep the dewpoint the same: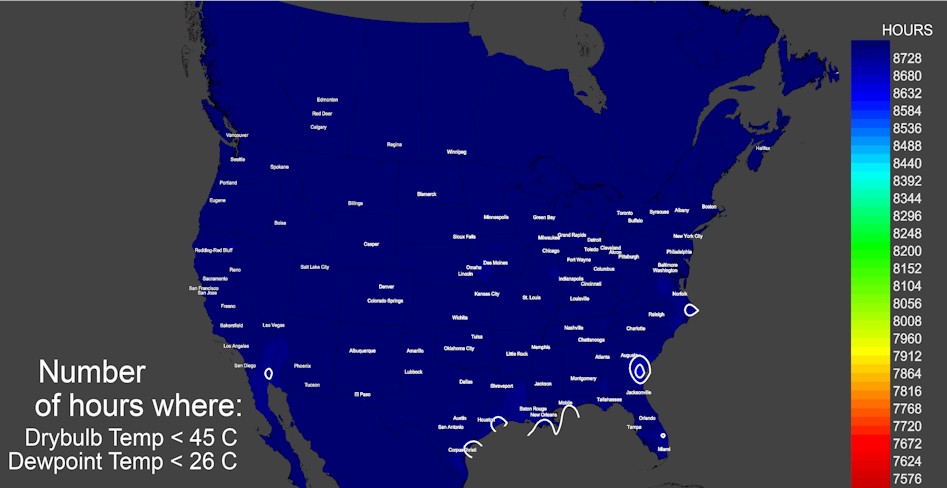 Raising the operating temperature a bit on the servers makes free-air cooling an option (click to enlarge)
There are very few places where Dell's heat-tolerant gear can't operate. The same basic pattern holds for Europe and Japan, and Dell is obviously going to try to use this latent engineering to competitive advantage now. ®
Sponsored: Minds Mastering Machines - Call for papers now open