OS X Lion paves way for "Retina Display" monitors
Jaggies-be-gone
Mac OS X Lion incorporates support for displays packing four times as many pixels as they do today.
Right now, the so-called "HiDPI" mode remains inaccessible unless you've downloaded Apple's Xcode software development tool. It contains a graphics test application called Quartz Debug and it enables HiDPI modes in Lion's Displays control panel, MacRumors reports.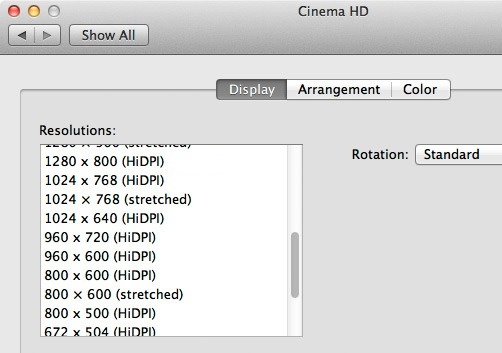 Source: MacRumors
The notion is that developers will be able to code apps able to support resoutions of 3840 x 2160 and beyond. Vector-based images and fonts will scale up already, but bitmapped UI elements will need to be rendered at double their current pixel dimensions to ensure they appear on screen at the same size as they are now.
But with double the pixel density, images would appear a darn sight smoother than they do now.
In short, we're talking the desktop equivalent of the so-called "Retina Display" Apple currently builds into the iPhone and is expected to equipping the iPad with in due course.
In iOS, retina-ready graphics are suffixed @2x, and the OS automatically uses these images over un-suffixed ones when rendering content on retina screens.
OS X's HiDPI mode presumably works in the same way. Coders build apps for a nominal resolution - say, 2560 x 1600 - leaving the OS to realise that it's actually working with a 5120 x 3200 screen and use the difference to improve the look of the picture rather than simply treat those extra pixels as more screen real estate.
Equipping Lion to cope with HiDPI screen - and providing developers with the tools they need to get their apps to support such resolutions without making UIs suddenly appear a quarter of the size - is one thing. Actually shipping machines with such screens is another.
But, as with mobile devices, high pixel density monitors certainly will come to market. ®
Sponsored: Minds Mastering Machines - Call for papers now open