Apple Mac OS X 10.7 Lion Part Two
The cat scan continues
If you use Apple Mail, you should appreciate the iPad-style three-panel window and enhanced Exchange support. Apple says it has improved searches in Mail, but I think it has worsened. For example, it appears to be no longer possible to search for 'Sent To' partial e-mail addresses.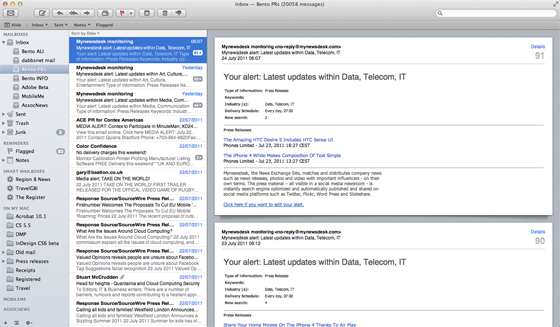 Conversations are a bit one-sided: even if I responded, my email wouldn't be included here
Click for a larger image
Supposedly, your search text appears as a 'token' in the search field, whereupon you can narrow down the results. In practice, these tokens only appear when you search for something really obvious such as a full-text user name, and fail to appear at all for much else.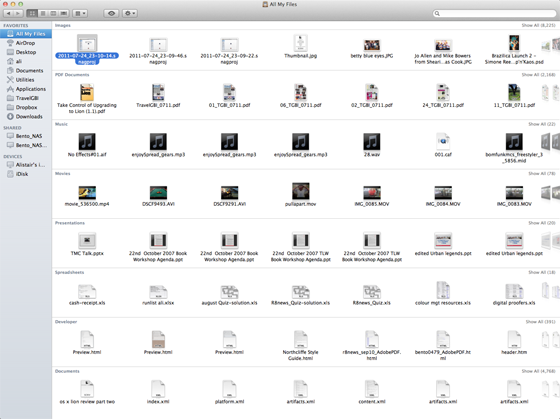 All My Files is supposed to provide an 'organised view' of my computer – it looks a bloody shambles to me
Click for a larger image
Messages with the same subject line are grouped together iPad-style too. Apple calls them "conversations", although since they don't include your replies, these conversations are a bit one-sided.
Another curious addition is the All My Files view in Finder windows. Instead of showing you the content of the current folder, this feature picks a seemingly random handful of the millions of files on your hard disk and shows them to you in horizontal-scrolling rows. There must be a good use for this but it eludes me. Your troll-like suggestions and insults are welcome, as ever.
Still, being able to arrange icons first by a category - filetype, say - and then sort each category - alphabetically, by modification date, or somesuch - is good. But the CoverFlow-style display (above) needs some whitespace at the start and end of rows, Apple.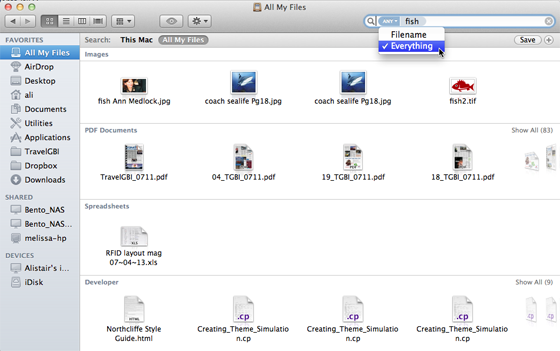 The cleverness of 'tokens' in searches leaves me cold. You can do this much in Snow Leopard
Click for a larger image
Verdict
In short, OS X Lion is a decent upgrade for Macs but a great one for MacBooks. Everything from FileVault 2 - encrypt everything, not just your home folder - to FaceTime - video chat on the move - screams 'mobile!', while sedentary users look on and mutter 'that's nice'. But for £20.99, who's complaining? ®
Sponsored: Minds Mastering Machines - Call for papers now open