Apple Mac OS X 10.7 Lion Part Two
The cat scan continues
Accessibility is not my area of expertise, I'm ashamed to say, but I like the new loupe cursor - Apple calls it 'picture-in-picture zoom' - that provides a magnified rectangle of whatever your mouse pointer is hovering over. This could be especially useful to those of you risking your eyesight by over-indulgence in the aforementioned videos.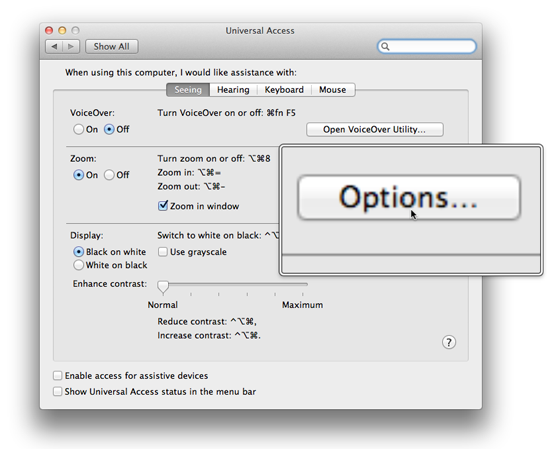 Universal Settings offers a Picture in Picture mode when 'Zoom in window' is ticked
AirDrop, a feature that establishes on-the-fly, router-free, peer-to-peer Wi-Fi connections between Macs for file transfer, is splendid in the way it just works. You don't need to launch a special utility to enter settings: you just click on 'AirDrop' in the left-hand panel of any Finder window and it'll find any Macs running OS X Lion nearby. When you drag files onto their icons, the recipients are prompted to accept or reject the temporary connection. It's so easy. A great network tool spoiled only by its refusal to work over Ethernet too.
Apple insists the connection is firewalled and only looks for other Macs within a short range. I considered borrowing a third Mac and try to hack into one of these connections from outside my window, but as a journalist I run the risk of a public beheading in the current anti-hacking climate. Clearly, AirDrop is yet another feature devised with MacBook users in mind. Hey, I'm just saying.
The same goes for Full-Screen Apps, which optionally hides the menu bar in supporting applications. How often would I want to do this on a 27in iMac? And how useful would it be on a 15in MacBook?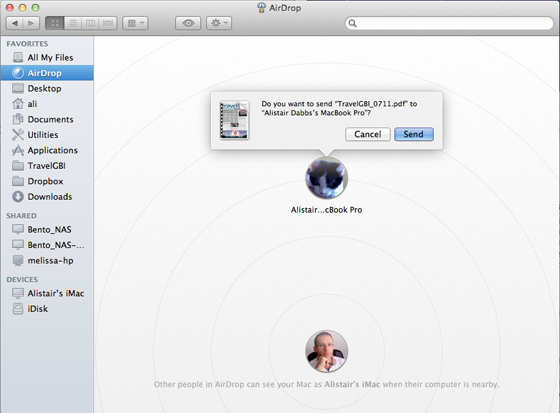 Instant Wi-Fi without a router: AirDrop links computers on the fly provided each Mac is running Lion
It may take a while for app developers to introduce updates to support Full-Screen Apps. This is true also for OS X Lion's Auto Save and built-in versioning features. The combination of being freed from Cmd+S drudgery while being able to revert a document to how it was three saves ago is lovely. The bad news is that I could only find the feature enabled in Apple Pages so far.
Sponsored: Minds Mastering Machines - Call for papers now open